/

/

Fielding's Wood Grill: Local, fresh, and different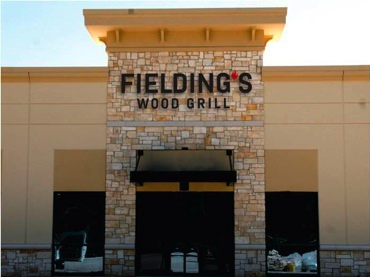 THE WOODLANDS, Texas -- Fielding's Wood Grill, opening on September 4, is an elephant-sized change for The Woodlands. There are many burger spots around town; from Fuddrucker's in Grogan's Mill to The Counter in Market Street. However, there is no other restaurant in The Woodlands quite like Fielding's Wood Grill.

Cary Attar, founder of Fielding's Culinary Group, along with chef Edelberto Goncalves and systems operator Matt Kotis, was inspired "to fill the best-in-class burger group" void in The Woodlands. This restaurant will offer locally purchased, homemade, high-quality foods for every meal of the day.

Located on Research Forest, a booming spot in The Woodlands, Fielding's will offer an innovative and exciting menu. This "new-age American" restaurant offers new and old variations of milkshakes, burgers, salads, and drinks with a twist. Some examples are the shrimp burger, alcoholic shakes, and rotisserie chicken.

Not only does the menu set Fielding's apart, but the preparation of the menu items stands out as well. Most items are made in-house, in fact you can watch the employees make the food. Grinding of the meat, curing of the bacon, and browning of the bread is all done in front of you. "If we can't pronounce it, we don't use it," Attar said. What isn't made in the store is bought from local farms and suppliers when possible.

The layout of Fielding's Wood Grill is a new concept as well. You order at the counter to quickly get your meal started but you still receive waiter service once you're seated. The mood is comfortable and casual with varying seating options.

This is the first of three restaurants under Fielding's Culinary Group to open. A Fielding's Local and a Fielding's Brasserie are also planned. With each restaurant "the design elements become more involved," Attar said.

When September 4 rolls around drop by the opening celebration of Fielding's Wood Grill at 1699 Research Forest Drive, Suite 130, The Woodlands, Texas starting at 6:30 a.m. for breakfast.