/

/

Marlo Saucedo: A picture is worth a thousand words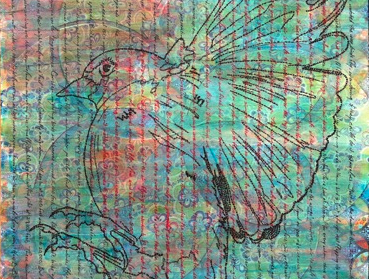 THE WOODLANDS, Texas— Picture an artist—what comes to mind may be an old fashioned view—artists living in colonies, spending time in cafes discussing abstract topics, or visiting country homes and painting pastoral landscapes. However, the modern-day artist is so much more. Marlo Saucedo, a Woodlands resident, proves just that—she is a mother, a wife, an athlete, and your next-door neighbor.
Saucedo's form of art is very specialized. In fact, there really is no name for her style because it is so unique. Her mixed media pieces are done entirely of text, or in pointillism with over 1,000 bright squares of paper or paint forming photo-realistic images when seen from a distance. Her work has been featured in multiple art shows, and sells quickly because of its originality.
Saucedo's start in the art world began at the age of 10. She received a scholarship from The Glassell Junior School, an art school for young people connected with the Houston Museum of Fine Arts, which she attended during the summer for four consecutive years. She says that it was a solid introduction to the different mediums, from paper mache to portraits, but it was intimidating. She was used to being the best artist in her school, and suddenly other talented artists surrounded her. Saucedo ultimately decided she did not want to go to art school, and instead pursued a degree in psychology at Davidson College, and later earned her MBA at the University of Texas at Austin.
After getting her MBA, Saucedo tried many different career paths but missed the creative process of art and writing. On the side, she kept her creative spirit alive and for her wedding shower she created self-portraits of herself and her fiancé. When her friends saw these artworks they were impressed and intrigued. They asked her to create other portraits, leading Saucedo back to the art she loved.
The inspiration and subject matter for Saucedo's work usually comes to her while running (she completed The Woodlands Half Marathon this past year) or from the architecture around her. Being a Houston native, Saucedo's work featured the skyline for many years, but her subjects have changed over time.
"Location dictates my work…my art had always been on downtown Houston--- [I] was so involved, love the subject matter, buildings, and their history," said Saucedo. However, her current fascination is with the trees of The Woodlands, the subject of a piece she is working on for her solo art show in December at the Rotunda Gallery. To create this piece, Saucedo researched hundreds of quotes on happiness and used the words to form the trees.
Another series of work she plans on completing for the show is a set of four portraits of each member of The Beatles, inspired by her husband's love for the band. The portraits will be created entirely of lyrics that each member wrote or sang. With each new idea, Saucedo must plan her time wisely because of the labor-intensive style and method.
As for the future of Saucedo's work, she hopes to one day create a mural that incorporates the history of its location in order to help visitors learn more about the place. For now, along with her art, she writes for CultureMap Houston and is focused on raising her two young sons.
"These days [I] spend more time on parenting. The art will always be here."
For more information on Marlo Saucedo and her work, visit the link below.