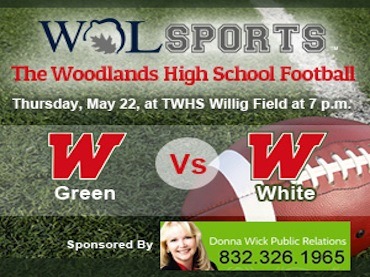 THE WOODLANDS, Texas -- Woodlands Online's live stream coverage continues this week at The Woodlands High School's Willig Field. The Woodlands High School hosts their Spring football game on May 22. The Junior Varsity team is slated to begin at 5 p.m. and Varsity will play at 7 p.m.

Woodlands Online will live stream the Varsity game beginning at 7 p.m, thanks to presenting title sponsor Donna Wick Public Relations.

If you can't make it out to the game, you can enjoy it from your computer, iPhone or iPad. Watch the live stream beginning at 7 p.m.

Thursday is also Future Highlander Night and all future Highlanders are invited to come out and support their team.

Woodlands Online will be live streaming Conroe ISD athletics for the 2014-2015 year.