/

/

Linda Nelson recognized as 2014 Distinguished Alumnus of Leadership Montgomery County
Linda Nelson recognized as 2014 Distinguished Alumnus of Leadership Montgomery County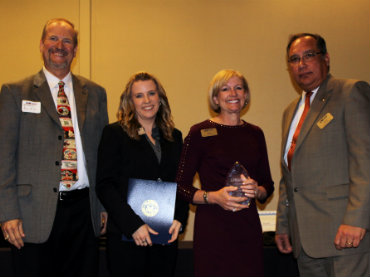 Montgomery County, Texas –- Leadership Montgomery County (LMC) is pleased to announce that Linda Nelson was selected as their 2014 Distinguished Alumnus.
Nelson was honored at the LMC Class of 2014 Graduation Luncheon held last week at La Torretta Lake Resort.
Each year, LMC honors a graduate of the program who has excelled as an inspiring leader in either their career, the community or both. They look for someone who has shown a commitment to Montgomery County through community involvement and someone who earns respect by leading with professionalism, integrity and excellence.
"Linda is a true example of the kind of leader we should all aspire to be," said Sarah Rhea, LMC executive director. "She has shown true integrity and professionalism in all she does. She inspires everyone around her."
Linda Nelson is a graduate of the LMC Class of 1999. She is the Immediate Past Chairman of the Board of Leadership Montgomery County and has served on the LMC Board of Directors since 2008. She has served as LMC's alumni chair and has co-chaired the LMC Healthcare Session for many years. She was also selected by LMC as their 2014 Woman of Distinction.
In addition to her involvement with LMC, Nelson is very active in the community serving on The Woodlands Area Chamber of Commerce Board of Directors and the Greater Conroe/Lake Conroe Area Chamber of Commerce Board of Directors. She is also active in the Montgomery County Hispanic Chamber, Montgomery County United Way, CISD Site Based Committee and is an Election Judge and Precinct Chair.
Linda Nelson has been with Memorial Hermann The Woodlands Hospital since 1997. She has been in the role of Director of Business Unit Marketing for the past ten years. She completed her undergraduate degree in Business at West Virginia Wesleyan College and her MBA at Texas Women's University.
Leadership Montgomery County (LMC) is a 501(c)(3) nonprofit organization, dedicated to developing and enhancing current and future leaders of Montgomery County. The goal of the program is to educate and inform candidates about major community issues, while inspiring and motivating individuals to exercise their leadership skills to benefit the community.
LMC is a joint project of the Greater Conroe/Lake Conroe Area Chamber of Commerce and The Woodlands Area Chamber of Commerce. The Greater Magnolia Chamber of Commerce, the Community Chamber of East Montgomery County and the Montgomery County Hispanic Chamber are also participating Chambers in the LMC program. Participants are chosen by application process in June of each year.
For more information about Leadership Montgomery County, visit the website link provided.