/

/

Woodlands native guides first deaf, blind man to finish an Ironman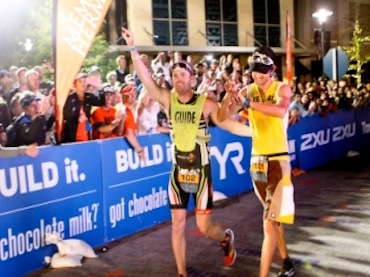 THE WOODLANDS, Texas - Jarrett Hubert gasped across the finish line of the 2014 Ironman Texas Triathlon here in The Woodlands just minutes before the midnight deadline on May 17 – nearly delusional after 2/3 of a day swimming, biking and running across southeast Texas.
"Most rewarding moment of my life."
It had taken 16 hours and 49 minutes of grueling exercise to get to what he called "the greatest and most rewarding moment of my life."
But it wasn't the first time in a triathlon or Ironman for the Anadarko Staff Commercial Development Rep., Hubert had been down this road before – 4 Ironmans, 10 Half Ironmans, and nearly a dozen marathons under his belt – any of which could be considered "the most rewarding" moments for most athletes' lives.
Separating this race from his other endeavors is who he crossed the line with.
That man – one who Hubert only knew for a few months – had a contrasting experience at the end – one of exhilarating pride, mixed with physical darkness and silence. In fact, he couldn't see the crowd, hear their chants of encouragement or scream shouts of joy.
Why not? Because that man, Andy Granda, is blind and deaf – and became the first deaf and blind man ever to cross the finish line at an Ironman Triathlon.
Granda, 38, who resides in San Diego, has Usher Syndrome Type I, the most common condition that affects hearing and vision. Being deaf his whole life, Granda is also legally blind and can only see 7-8 feet in front of him – and only during the day. His peripheral vision is gone, and his remaining eyesight is quickly declining to the point of total blindness.
So Hubert took servant leadership to a whole new level – agreeing to serve as Granda's eyes, ears and general guide to conquer the 2.4-mile swim, 112-mile bike and 26.2-mile marathon run together.
"It was the best experience I've had in my life," Hubert said. "Before Granda lost his vision, he wanted to prove that you're not defined by your physical limitations. He absolutely did that and it was truly inspiring for a lot of people."
Grueling Preparation
Three years ago, Hubert volunteered as a guide for several foundations that support blind or deaf athletes, including the C-Different Foundation and EyeCan Alliance. As a guide, Hubert has helped several athletes cross the finish lines of numerous marathons across the United States including the Houston Marathon, San Diego Marathon, California International Marathon and even the Boston Marathon this past April.
"With training and the actual race, you spend a lot of time alone. I felt like there could be another element to my hobby by helping another person and making these events special and achievable for them," said Hubert.
After meeting Granda at a marathon in Sacramento, Hubert was approached to fill in for Granda's regular guide for Ironman Texas due to an injury. Granda had never competed in an Ironman, and Hubert had never guided a blind/deaf athlete at any distance.
The two communicated frequently in the months leading up to the race through text messages or a Facetime chat with a sign language interpreter. Through that process, Hubert was learning nearly 100 race specific ASL signs he would use during the event – one tap of the neck to slow down, two taps to really slow the pace, an 'X' drawn on the back to stop, signs for water and PowerAde, and signs of encouragement. At night, when Granda's sight was gone, he'd sign into his hand.
To assist Hubert during the week leading up to the race – when Granda would be staying at Hubert's house and going through pre-race training and meetings – he asked deaf and blind communities on Facebook for volunteer ASL interpreters.
"The real support in this whole journey was the ASL interpreters," Hubert added. "We had an outpouring of support from them to volunteer their time because they just wanted to be part of the experience. We never would have been able to even get to the starting race without those volunteers."
14-Hour Expectation
The pair's goal was to finish around the 14-hour mark, but quickly ran into trouble 500 meters into the swim with sunlight creating havoc for Granda's very limited vision.
"As soon as we started to run into problems that early into the race, I thought making it to the finish was a real long shot," he said. "But I tried to just keep us both positive and moving forward, and really, my goal was just to see how far we could get on the course before midnight. We kept sliding in just under the cutoff mark for each leg, which added a level of excitement for me. By the time we got to the run, I figured we had a shot to get to the finish. Granda showed a lot of character by pushing through the final part of every leg."
Nearing the finish line, Hubert estimated about 1,000 people cheering for Granda. Granda heard or saw none of it, but sensed the adrenaline – pumping his fist in the air as quickly as his aching muscles allowed.
They cleared the finish line at 11:49 p.m. – just 11 minutes before the race cutoff. Granda became the first deaf, blind man to finish an Ironman.