/

/

Home Improvement Trends, Based in ROI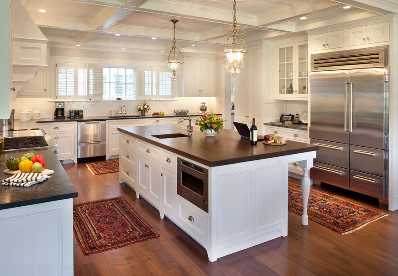 Sleek and simple kitchens
latest interior design and home remodeling trends.
This is the new look to today's modern kitchen renovation. Where the warmer, rustic feel of the past was once the most popular design, it is now all about white and grey cabinetry, simple countertops, glossy finishes and simplistic designs. Even appliances are being hidden away or blended into the design to create a more refined appearance.
SPA-style Bathrooms
Style designs with amenities such as large walk-in showers with multiple showerheads, heated floors and towel racks and jetted bathtubs. Soothing neutral and cool colors (like Ash Gray, Light Blue and Off-White) are becoming more popular, as are glass tiles.
Color and color and color!!!!
According to Pantone, the international authority on color, vibrant colors that include Green Flash, Lemon Zest, Nectarine and Rouge Red will be interior designers' new color palette for accent walls, main paint colors and flooring in bedrooms and main living spaces throughout the house.
Source: Sherwin Williams Color Mix 2015
Energy-efficiency
The use of renewable and sustainable materials is expected in today's home renovations. Experts agree that homeowners will see more renewable materials such as recycled glass counters and backsplashes, energy-efficient appliances and more creative designs incorporating local climate and green products..
Living accomodations
Households that accommodate aging parents and boomerang kids are becoming more prevalent today, as homeowners are finding themselves designing bathrooms with features ranging from wall mounted sinks for wheelchairs, to walk-in bathtubs, to motion-sensing faucets that may make life easier for everyone in the family.
SCM Design Group
Pablo X. Arguello
www.scm-design.com