/

/

LMC learns about public safety in Montgomery County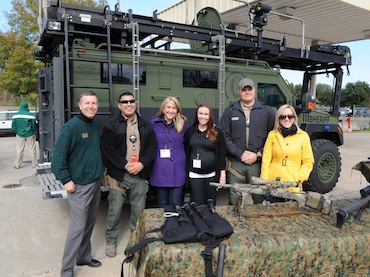 MONTGOMERY COUNTY, Texas – The Leadership Montgomery County (LMC) Class of 2015 recently enjoyed a day of learning about public safety in Montgomery County at the LMC Public Safety Session sponsored by the City of Conroe.
The LMC Public Safety Session was planned and directed by Lt. Brady Fitzgerald of the Montgomery County Sheriff's Office.
The session started at The Woodlands Fire Department Central Station with a Fire & EMS Panel that included The Woodlands Fire Department Chief Alan Benson, City of Conroe Fire Department Chief Ken Kreger, Splendora and New Caney Fire Departments Chief Jeff Taylor, and Montgomery County Hospital District Director of Emergency Medical Services Jared Cosper. The class then toured The Woodlands Fire Department Central Station before traveling to the Montgomery County Sheriff's Office Training Academy.
Once at the training academy, the class heard from a Law Enforcement Panel that included Montgomery County Sheriff's Office Chief Deputy Randy McDaniel, Conroe Police Chief Philip Dupuis, Montgomery County District Attorney Brett Ligon and First Assistant District Attorney Phil Grant, Texas Department of Public Safety Captain Terry Truett and Montgomery County Precinct 5 Constable David Hill. Following lunch, the class had the opportunity to explore law enforcement vehicles and equipment including specialized vehicles, SWAT vehicles, patrol cars, motorcycles, fire marshal vehicles and more.
The class then heard from a Corrections Panel that included David Moore of Montgomery County Sheriff's Office Jail Operations, Tracee Moland of Community Supervision and Corrections, and Bruce Gusler of Montgomery County Juvenile Probation. The class then toured the Montgomery County Jail, Juvenile Probation and the Montgomery County 911 and Communications Center.
The day ended with the LMC Leadership Series facilitated by LMC alumni including Julie Ambler of The Woodlands Christian Academy, Susan Cates with the City of Oak Ridge North, Steve Scott of Houston Business Coach, Vicky Shelledy, Vic Tarasik of Vic's Precision Automotive, and Leslie Williams of Cynthia Woods Mitchell Pavilion.
Leadership Montgomery County (LMC) is a 501(c)(3) nonprofit organization, dedicated to developing and enhancing current and future leaders of Montgomery County. The goal of the program is to educate and inform candidates about major community issues, while inspiring and motivating individuals to exercise their leadership skills to benefit the community.
LMC is a joint project of the Greater Conroe/Lake Conroe Area Chamber of Commerce and The Woodlands Area Chamber of Commerce. The Greater Magnolia Chamber of Commerce, the Greater East Montgomery County Chamber, the Montgomery County Hispanic Chamber, and the Magnolia Parkway Chamber are also participating Chambers in the LMC program. Participants are chosen by application process in June of each year.
For more information about Leadership Montgomery County, please visit LMCTX.org.