/

/

2nd Annual Bustin' Clays on April 23 to benefit TIRR/Memorial Hermann Foundation
2nd Annual Bustin' Clays on April 23 to benefit TIRR/Memorial Hermann Foundation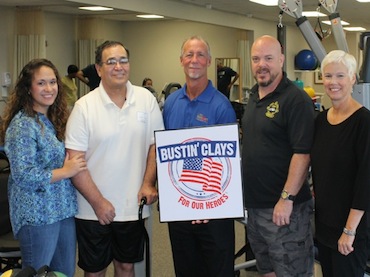 THE WOODLANDS, Texas - If you're a sportsmen, gun enthusiast or novice mark your calendar for the second annual Bustin' Clays for our Heroes on April 23, 2015.
"Bustin' Clays is a sporting clay tournament benefitting TIRR Memorial Hermann and the Memorial Hermann Foundation," said Mike Karlins of Karlins, Ramey & Tompkins. "Last year at our inaugural event, we raised over $40,000. for TIRR Memorial Hermann to provide rehabilitation for our military veterans. An event where participants have fun shooting clay targets, enjoying great barbeque and supporting veterans, encourages all of us to put this date on our calendars year after year."
Bustin' Clays will be held at Creekwood Shooting Sports located at 2824 Hwy. 105 West in Conroe. " We have had a tremendous response to this event already and are so grateful to our veterans that this is a small way we can give back and have some fun in the process," said Karlins.
Current sponsors include: Woodforest National Bank, Tag Electric, Dernick Encore, Randy Roan Construction, Efficient Wealth Management, Stibbs & Company, Better Bookkeepers, Blanton Advisors, Brady for Congress, Waste Connections, Memorial Hermann Hospital The Woodlands, McKenzie's Barbeque and Burgers and design services were donated by LJF Marketing.
"Through the support of the community last year, we were able to provide services to two veterans, Jeffrey Clark and Migerial Garza", said Mikael Simpson, OTR, MBA, Director of Rehabilitation Services at TIRR Memorial Hermann The Woodlands. "We are thrilled to partner with Bustin' Clays so that we might assist other veterans whose insurance is not covering treatment."
Teams of five participants, which include a military veteran, will participate in a shotgun start tournament followed by dinner. Registration is $950 per team or $275 for individual and includes 50 clays/ammo, golf cart, dinner, shirt and awards. Sponsorships are still available.
For more information on Bustin' Clays, please visit the link provided below or contact Veronica at 281.364.0245, vharman@krtcpas.com or Cathleen at 713.242.4450.
TIRR Memorial Hermann Rehabilitation Stories: (2)