/

/

Earth, air, water and fire all represented at 14th Annual Home & Garden Show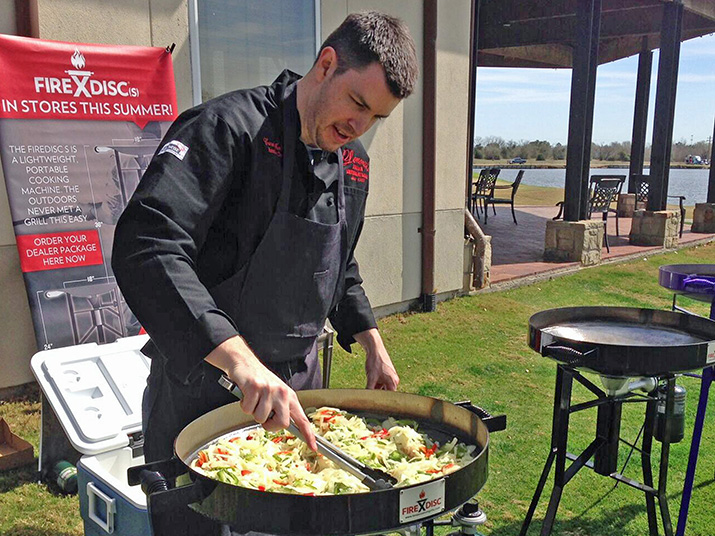 THE WOODLANDS, Texas – Celebrating its 14th year, the Fall Home & Garden Show The Woodlands will be held Saturday, Aug. 13, from 9 a.m. to 7 p.m., and Sunday, Aug. 14, from 10 a.m. to 6 p.m. at The Woodlands Waterway Marriott Hotel & Convention Center, 1601 Lake Robbins Drive.

As one of the more popular exhibits at The Woodlands Shows, this year's Cunningham Gas Outdoor Cooking Stage will feature Chef Conor Moran, who will demonstrate the newest products from FireDisc Grills at 11 a.m. on both days of the show, as well as H-E-B Cooking Connection chefs who will be providing cooking demonstrations throughout the weekend.

"These FireDisc Grills are some of the coolest things I've seen in a while," said Tony Wood, president of Texwood Shows Inc. "In addition to seeing Chef Moran in action, those cooking aficionados attending the show will have an opportunity for a try it before you buy it experience with the cooling effects of an Atomist NEVOA Fan, which will be set up to provide relief from the heat and available at the Cunningham Gas Outdoor Cooking Stage."

Available in 24- or 36-inch heights, FireDisc's grills and woks are ideal for outdoor cooking, whether on camping trips or set up as part of a home's outdoor living space. And the affordable, easily installed and maintenance-free Atomist NEVOA Fan uses its patented dual atomizing technology to provide comfortable and dry work and play spaces.

Glacier Pool Supplies & Spas joins The Woodlands Show this year to showcase the Bullfrog Spa, which features the one-of-a-kind customizable and removable Jetpak Therapy System. The folks from Glacier also will set up an Almost Heaven Outdoor Sauna as well as a display of Inflatable Stand Up Paddle Boards.

Joining the show's lineup of custom furniture builders is Phoenix Phire Designs, which provides furniture constructed to homeowners' specifications using solid steel and natural, hand cut stone. In addition, Haggard's Rustic Goods will have representatives available to present its custom-designed furniture crafted from genuine weathered barn wood; and John Snyder of Custom Wood Carvings by Snyder will hand-carve a custom piece out of a tree trunk while at the show.

Homeowners who wish to add to or change the color of their homes' interiors or exteriors can Ask the Color Experts for helpful advice from knowledgeable professionals from Sherwin-Williams, who will be on hand to explain the paint manufacturer's online ColorSnap Tools and its new FanDeck, which has been reorganized with new colors.

Gardeners attending the show will get an opportunity to pick the brain of Randy Lemmon, host of KTRH AM 740's GardenLine, who will present "Sizzling Summer Gardens – Q&A with Randy about the state of your garden!" In addition to broadcasting live from the event, Lemmon will discuss his new book "Texas Tough Gardening" during book signings scheduled for 11:30 a.m. to 1:30 p.m. on Saturday, and from 11 a.m. to 2 p.m. on Sunday.

Dr. Lori Verderame, antiques appraiser of the Discovery Channel's "Auction Kings," will be at the show both days to provide one free appraisal, time permitting, to those bringing an item for her identification and valuation.

"Several food trucks will be set up outside the show," Woods said. "St. John's Fire food truck will make its debut in The Woodlands with its Cajun-inspired eats; Cousins Maine Lobster will serve up its signature seafood; and the Snow Cone Angels will help keep everyone cool with its organic fruit shaved ices and desserts."

Tickets for the 14th Annual Fall Home and Garden Show The Woodlands are $9 for adults, $8 for seniors, and children 12 years and younger can attend for free. Covered parking is available free of charge in the parking garage behind the convention center next to the Cynthia Woods Mitchell Pavilion at Six Pines and Lake Robbins.

For more information about the show, call 832-274-3944 or visit WoodlandsShows.com, where a downloadable discount coupon for $1 off admission is available.