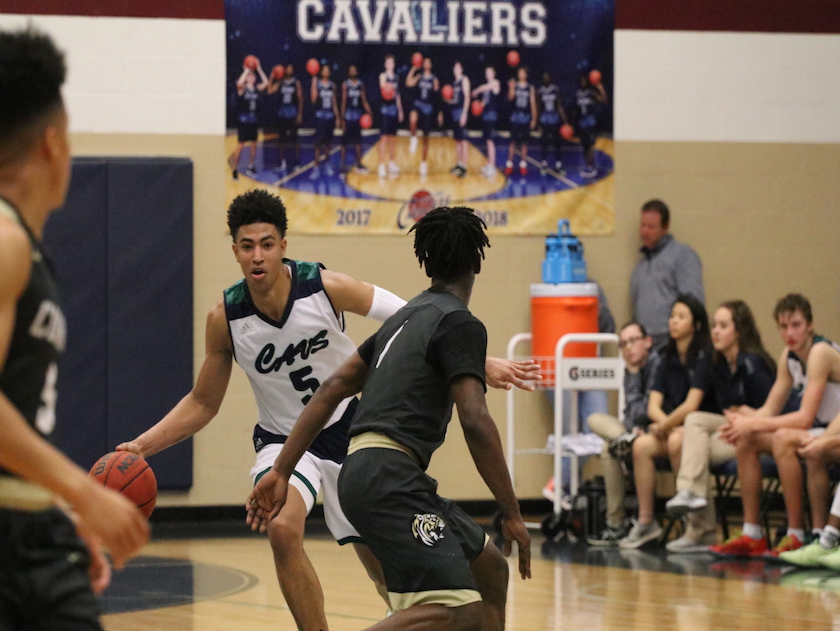 THE WOODLANDS, Texas-- With all the activities happening at College Park ("Catch Me if You Can" musical, and girls soccer), it's no surprise that the gym would be packed Friday night. Media companies all over the Houston area commuted to get footage of the Kansas-bound star, Quentin Grimes, who made his final commitment back in November.
College Park made it rain three-pointers throughout the night. The game started off slow, but as the crowd's energy increased, the energy on the court escalated quickly. The Cavaliers take lead against the Tigers with 39-23 at the end of period two.
During halftime, a former varsity baseball player, Austin Pruitt made his reappearance to celebrate getting his number retired. College Park coaches, Larry Koslosky, Jason Washburn, and Principal Dr. Mark Murrell, awarded him by giving him his jersey in front of the crowd. Pruitt played for Navarro College then transferred to University of Houston where he pitched.
Fans from both sides of the gym started yelling names of players, coaches got fired up, even young girls got on the side of the court to start cheering on the Tigers. The Cavaliers started making baskets left and right. While College Park was beating Conroe, the Tigers fought on with ambition and optimism. Numerous faces steal the spotlight during the last two periods of the game. Number 24, Bobby Zane performs a plethora of defensive stops against the Tigers, which is quite impressive after being plagued by knee injuries earlier in the season. Number three, Braden Kupfer holds up the Cavs by scoring multiple three pointers during period four. The overall score of the game was 88-50 with another win for the Cavaliers.
The Cavs take on the Montgomery Bears at home Friday, February 2nd at 7:00.