/

/

iFLY celebrates 2nd All Abilities anniversary with fundraising campaign for local nonprofits
iFLY celebrates 2nd All Abilities anniversary with fundraising campaign for local nonprofits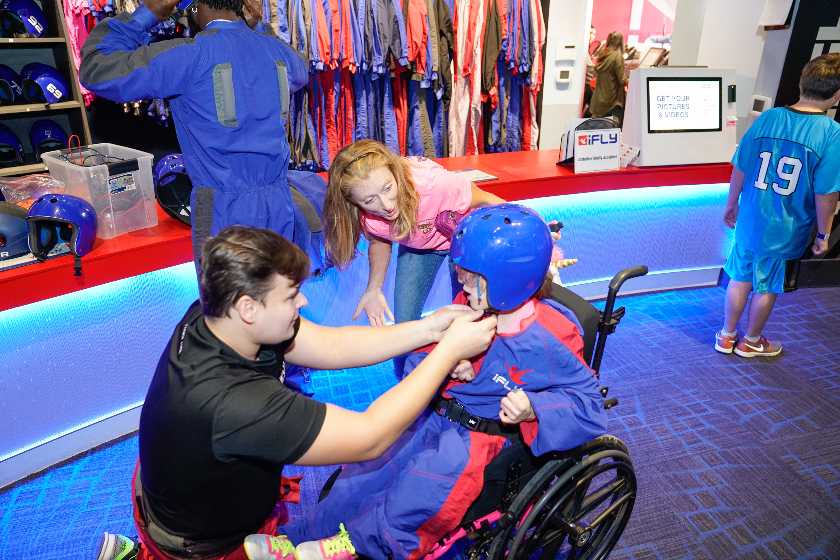 THE WOODLANDS, Texas -- iFLY, the world's largest indoor skydiving operator, is celebrating the 2nd anniversary of All Abilities with a huge fundraising effort to benefit nonprofit organizations across the country. Fundraisers will run throughout the month, leading up to the official events at the end of April. Local tunnels will raise funds for their partners through direct donations and specially priced flight packages.
For its local fundraiser, iFLY Woodlands has announced that it will continue its ongoing partnership with We See Abilities – a local nonprofit committed to providing the special needs community with a better quality of life through sports and community activities. Proceeds from this fundraiser will be used to support the nonprofit's mission.
"We aspire to create a world where parents never have to say 'I'm sorry' to a child for activities they cannot be part of," said We See Abilities founder, Mythiquer Pickett. "iFLY is an integral partner in our mission to spread contagious positivity to the special needs community by helping create an environment of inclusivity and positivity for the members of the special needs community."
There are two ways for local tunnel patrons to submit their donation during the April fundraising period:
Open Donation: Local tunnel patrons can make direct donations by calling iFLY Woodlands at 281-942-4359 on or before April 30, or through making a donation during their flight experience.
Flight Package + $24.95 "Top it Out" Package: To enhance your flight experience, purchase a "Top it Out" package and increase your flight time. A $5 donation will automatically be donated to We See Abilities.
The month-long fundraising effort will close on April 30, as iFLY Woodlands and We See Abilities celebrate All Abilities Night with local flyers. The event is designed for individuals with special physical and cognitive needs to create an environment of support and inclusion, while empowering attendees to push past limitations and take flight. Everyone in the special needs community is welcome to participate.
"There is something so special about watching someone achieve a dream and for us, it's the dream of flight," said Staci Smith, Sales Manager of iFLY Woodlands. "We have a long-standing relationship with We See Abilities and we're proud to be part of their mission to provide an inclusive environment for all persons with disabilities."
For $39.95, specially-abled flyers will receive a pre-flight training session, all the necessary flight gear (suit, helmet, goggles), two flights (one minute each) and a free digital video. Experienced flight instructors will assist each flyer during the event, providing tailored accommodations and extra attention based on participant needs.
To make a direct donation, or to find out more information about the fundraiser and event, please visit iflyworld.com/programs/all-abilities/. Local tunnel patrons can make direct donations by calling iFLY Woodlands at 281-942-4359 on or before April 30.