/

/

Wisdom from Women in The Woodlands: Meet Dr. Mila McManus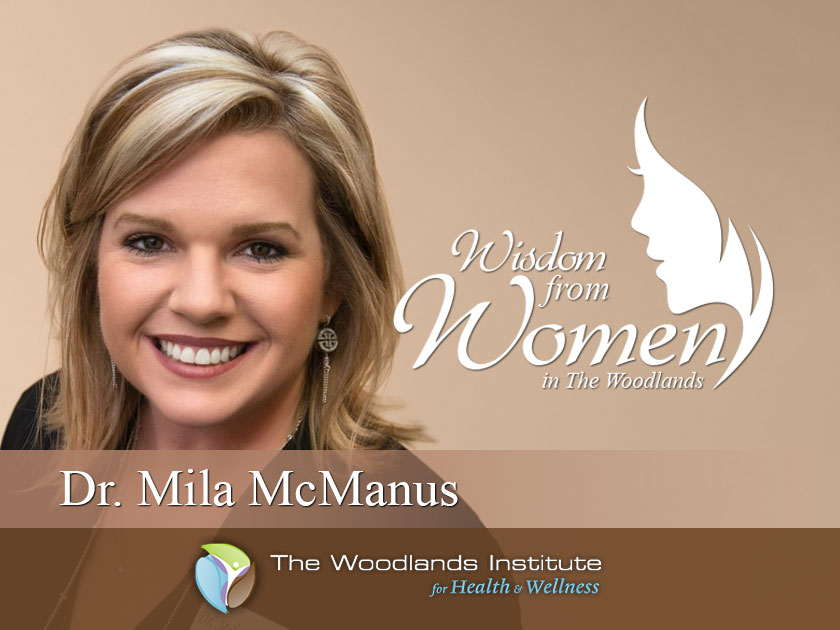 THE WOODLANDS, Texas -- Mila McManus was sick and tired of feeling sick and tired.
'There are a lot of problems with conventional medicine, and I have lived it.' Mila McManus, MD
"I thought that when I went to medical school, I would figure it out once and for all, and fix my ailments that nobody would seem to address," McManus said. "I had chronic GI (gastrointestinal) problems, headaches, mood swings, anxiety, insomnia, allergies and eczema. I was on at least 12 prescription medications, I had gained 80 pounds over five years, but nobody could explain why. All my bloodwork was perfect, and not once did somebody ask me about my diet or suggest my diet might have something to do with the way I felt.
"What I learned in medical school was how to band-aid more symptoms with more pills. Then, when I was in family medicine in my first year of practice, I had an epiphany that I was basically a drug dealer for big pharma," she said. "I wasn't fixing anybody else either. I wasn't getting answers for myself or my patients."
McManus, board-certified in Family Medicine, found the answers in functional medicine.
"It's everything we didn't learn in medical school," McManus said. "When I learned about it, it made absolute sense to me."
Functional medicine is sometimes known as wellness or holistic medicine.
"It's root-cause medicine," McManus said. "It's finding out why your body is not functioning like it's supposed to, and getting to the underlying causes of why that is. Most of the time we find that root causes are things like food allergies, food sensitivities, hormonal imbalances that often aren't seen on blood tests, vitamin deficiencies, toxins, and chronic bacterial or viral infections that aren't being addressed. Sometimes we find sleep disorders that are contributing factors, and then of course stress and genetics play a role too."
McManus began her own journey down a wellness path.
"I cleaned up my diet, realized I had horrible adrenal and thyroid issues, and I was just nutritionally bankrupt," she said. "Within six months on that path, I was off all of my meds, dropped 40 pounds without even trying, had never felt better. I knew that was the path I needed to take, and never looked back."
McManus, now certified by the American Academy of Biologically Identical Hormone Therapy, opened The Woodlands Institute for Health and Wellness in 2004.
Her overall interest in the medical field began when she was a self-described "lab rat kid," spending plenty of time in her neurophysiologist father's lab. Her mother is a behavioral scientist, and her stepmother is an OB/GYN.
But McManus went to college with an eye on chemical engineering.
"Turns out I didn't love that so much," she said, "so I switched to neuropsychology. My father encouraged me to take it one step further and go to medical school, so I did."
McManus graduated at the top of her class from the University of Texas-Houston Medical School in 2000. She completed specialty training in Family Medicine at Christus St. Joseph in Houston.
After medical school, McManus found herself in a lot of debt and decided it was also time to take care of her financial health by following Dave Ramsey's protocol.
"I was fresh out of medical school, had a lot of debt, living on credit cards," McManus said. "We followed the steps and got out of credit card debt in 18 months. It was life changing and brought us financial peace in short order."
McManus and her husband Lyle are now class coordinators for Dave Ramsey's Financial Peace University.
The bottom line, and therefore McManus's words of wisdom for women, is simple.
"Find out what you love," she said, "and you will find a way to be successful at it."