/

/

Space City to Host Pinball State Championship Tournament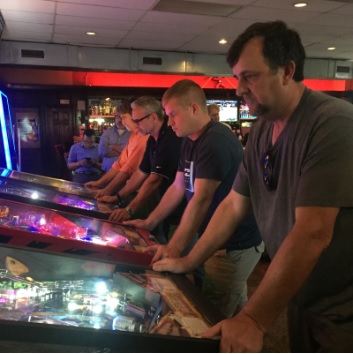 KATY, Texas --

The Space City Pinball League and EinStein's Pub are pleased to announce that the Texas International Flipper Pinball Association State Championship Tournament will be held on January 19, 2019, in Katy, Texas.



The IFPA North American Championship Series is an annual pinball competition with players qualifying throughout the entire calendar year. At the end of each year, the top 24 ranked players with the most WPPR points from each state qualify for the playoffs where they will play for the title of IFPA State Champion and take home a $1000 in prize money. Of the 24 qualifying players in Texas, 11 will represent Houston. Phil Grimaldi, founder of the Space City Pinball League remarked, "Houston is quickly growing into one of the nation's top pinball scenes. We have received a ton of support from local establishments like Einstein's Pub, The Game Preserve, and Joystix, which has allowed our players to flourish. We are thrilled to have the opportunity to host state finals and represent Space City."



In addition to monthly competitions at EinStein's, 2018 featured weekly three strike and monthly matchplay pinball tournaments at The Game Preserve in The Woodlands. Joystix, located in the heart of downtown, also graciously provided pinball machines from their showroom for Space City Pinball to host league events which involved multi-week qualifying rounds followed by league championship playoffs. These and other events provided local players the opportunity to earn valuable points for their state and world rankings while enjoying competition and social interactions with other pinball enthusiasts.



The calendar year 2018 proved to be one of the most active and successful times in history as pinball continued an unparalleled resurgence not only from coast to coast but throughout the world.

Competitive pinball has captured the attention and interest of men, women and children around the globe. There are now over 65,000 ranked players who are showcasing their individual skills in more than 5,400 different events and leagues being staged annually. And these numbers keep increasing at a dramatic rate.



Space City Pinball League is accepting new players. If you are interested in becoming involved in the 2019 competitive pinball scene, join the league's Facebook group to receive notifications about upcoming events or check the calendar at spacecitypinball.com. All skill and experience levels are welcome.