Adcetera, Houston's Largest Creative Services Firm, Opens New Office in the Woodlands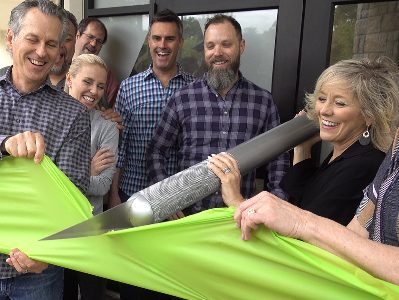 THE WOODLANDS, TX -- More than 80 employees of the largest creative services firm in Houston gathered on Thursday to celebrate the grand opening of its new location in The Woodlands. Adcetera founder and CEO, Kristy Sexton, also a twenty-five-year resident of The Woodlands, used a giant X-acto® knife to cut a bright green ribbon on the company's second office located at 1490 Research Forest Drive.
Client opportunities, thriving business climate drive decision to expand
Adcetera is headquartered in Midtown Houston, and began to slowly transition staff and client-focused interactions to The Woodlands office in January, but has been active in The Woodlands for the past 20 years, supporting many North Houston clients and numerous charitable organizations and events.
Steady business growth prompted the company to open the second location that will eventually house up to 40 additional employees. "An office in The Woodlands was inevitable, and the timing could not be better," Sexton says. "We are bursting at the seams in our Midtown location, and we've excitedly watched as several of our major accounts have moved to North Houston — we are also thrilled about the growing talent pool and business climate in The Woodlands and all of South Montgomery County."
"With traffic congestion growing, we are finding it more and more difficult to attract talent from North Houston who want to commute into the city. This new office solves that problem for both our North Houston employees and our clients that live and work in the area. Our work style is very collaborative, and we still believe in meeting face-to-face with our clients, and this office will make that very convenient for all."
Adcetera is an integrated creative services firm offering strategy, design, content, interactive, motion, and experiential services as well as innovations such as AI and VR to clients around the world and across the street. Adcetera is a privately held, WBENC-certified, woman-owned business that has operated in the Houston area for more than 37 years. For more information about Adcetera and our new office, please visit adcetera.com.