Worksuites in The Woodlands opens door to possibilities for businesses big and small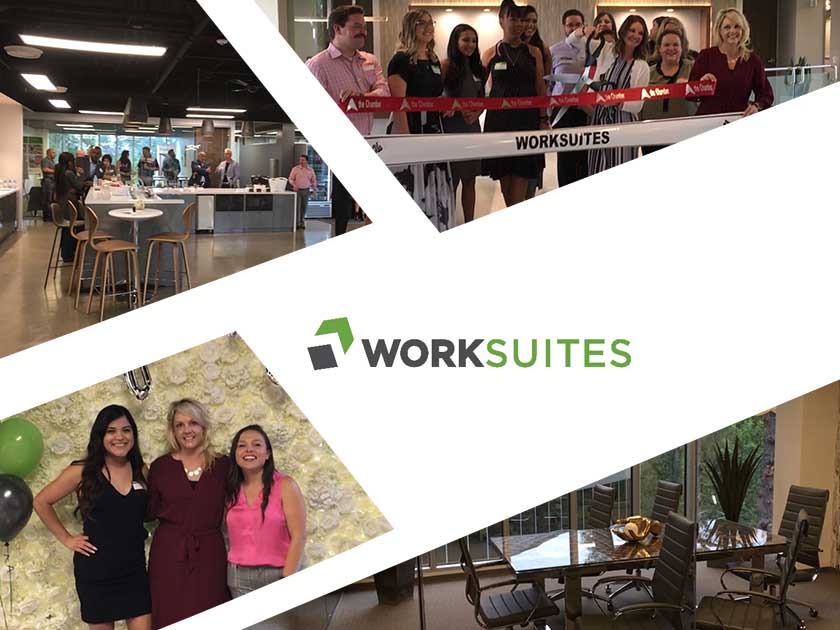 THE WOODLANDS, TX -- For entrepreneurs and small businesses, working in a beautiful office space with all the amenities of a large office is made possible by Worksuites. With 15 locations throughout the Dallas area and five locations in Houston, including the newest here in The Woodlands, Worksuites office solutions are gaining popularity. The grand opening for Worksuites The Woodlands, held on May 8, introduced the community to all this amazing company has to offer.

Worksuites is a rebranded concept born from the traditional office setting formerly known as Meridian Business Centers. The creators of Worksuites envisioned a hybrid model combining the trendy, co-working spaces with the advantages of the standard executive office suite.

"I feel like the traditional executive suite style and model is kind of going out, but it's never truly going away," Kendra Taylor, Worksuites' senior project manager, said. "Somebody's always going to want a private office ... not everyone's gonna want to work in a big co-working environment. So we feel that we have seamlessly blended the two together to really provide something for everyone."

By utilizing space at a Worksuites location, your business automatically benefits from the provided receptionist services, beautiful offices, a kitchen and a beverage bar. Most of all, your brand and image are elevated in the professional work environment. It is a place to welcome clients, surround yourself with a productive work environment, and feed off of the entrepreneurial energy.

Worksuites The Woodlands officially opened on February 15. Many offices are already rented by smart professionals who jumped at the chance to make this their workspace. Don't worry. As the largest location in Houston housing approximately 160 offices, there is still plenty of availability. The entire fifth floor of the building is home to Worksuites. A large portion of the office space is being reserved to offer space to a bigger corporation needing more room.

In addition to private and shared offices, professionals can reserve one of the six conference rooms. These simple yet winsome conference rooms seat from six to 14 people. Each one of these has a large whiteboard, and some of them offer a chalkboard or television to enable Zoom screen share meetings.

Options such as private offices, co-working and shared spaces, and part-time offices are offered without the need to sign a long-term lease. This opens the door to many possibilities for the changing needs of businesses today.

Whether you are tired of trying to get something accomplished in your workday amidst the chaos of home, are just getting your business off the ground, or are ready to take that next step, the solution awaits you inside Worksuites. You and your clients are sure to appreciate the fresh, light and appealing environment found at Worksuites The Woodlands. Taylor describes the design and space created by the brand as "clean yet humbling ... it's something that someone can come into and comfortably work and feel at home doing and conducting their business here on site." While the photos give you a taste of what Worksuites offers, you'll want to see it for yourself at 2001 Timberloch Place, Suite 500, The Woodlands, Texas, 77380.