/

/

Top 5 things to do in The Woodlands this week - May 27, 2019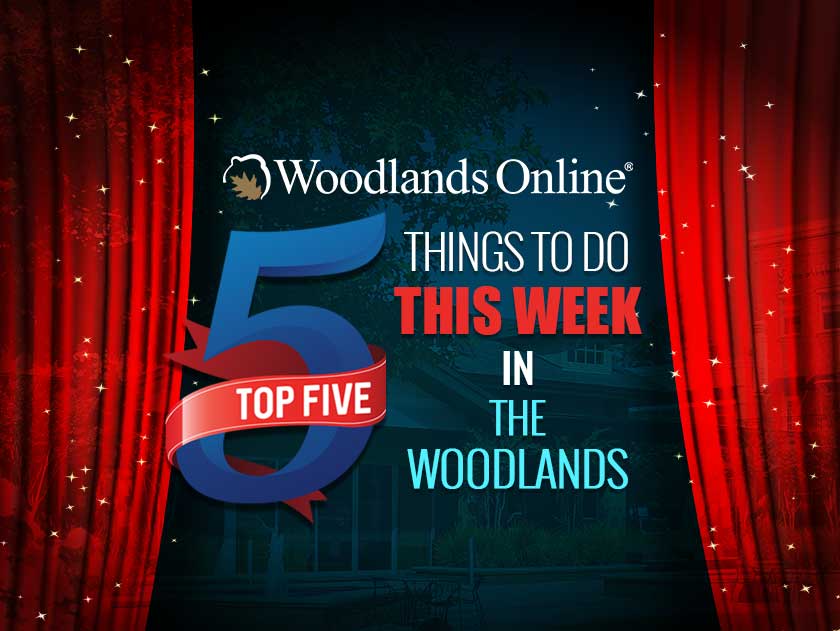 THE WOODLANDS, TX -- Get ready; a lively, music-filled week is ahead. Whatever gets your toes tapping, there is something for everyone on the calendar. Orchestra, country and pop music groups top our list of things to do along with more serious events such as supporting veterans and protecting your online assets. Our Events Calendar has all the details for these and so many more activities from which to choose.

Dogtopia hasn't opened their doors yet locally, and they are already gearing up to give. Join Dogtopia Monday, May 27 for the Memorial Day Charity Event. The crawfish boil begins at 1 p.m., and live music starts at 3 p.m. Puppy adoptions will be placing furry friends with new families. Drink specials run all day. All proceeds will benefit The Dogtopia Foundation and Camp Hope, which is a non-profit organization dedicated to mentoring combat veterans and their families with post-traumatic stress. Check out this new business coming to town, and join in the festivities at Dogtopia's new location in Pine Forest Plaza, just north of The Woodlands at 463 FM 1488, Conroe.

Now more than ever before, life happens online. From shopping and banking to connecting with others and business, we do it all on computers. Cyber security inevitably has become paramount. On Wednesday, May 29 The U.S. Chamber of Commerce is hosting the Cyber Security Series: Greater Houston, in partnership with The Woodlands Area Chamber of Commerce. Cyber attacks threatening sensitive data and organizational operations are not only increasing but also evolving. Attend to learn more about cyber insurance, government initiatives and other ways to protect against cyber threats. Register here to attend the event from 9 a.m. to 2 p.m. at The Woodlands Waterway Marriot Hotel.

The big names rolling into town just keep coming. The Kiefer Sutherland Band will be performing at Dosey Doe's Big Barn on Thursday, May 30. Sutherland is a Canadian actor, producer, director, and singer-songwriter who's won multiple prestigious awards for his acting roles. The music he delivers is equally esteemed among country music fans. When tickets to his "Kiefer Up Close" European shows were released, they sold out in minutes! Many disappointed fans missed out on the experience. This week's show within Dosey Doe's small, yet amazing venue offers the unique opportunity to be up close with Sutherland and the band. Select your seats and purchase tickets here. Then come early to order delicious grub from the kitchen.

DreamWorks' "How to Train Your Dragon" took audiences on a delightful story-telling adventure in their movie about a young Viking who defies tradition and befriends a dragon. Thursday, May 30 bring your children out to celebrate the end of school and with a concert and movie! Composer John Powell's Academy Award-nominated score will be performed by the Houston Symphony and perfectly synchronized to every scene of the film in a thrilling experience for all ages and a great way to introduce new audiences to the impact of the performing arts. Mezzanine and lawn seating are free. Reserved orchestra seats are available for $20 per ticket. Gates open at 6:30 p.m. for the 8 p.m. performance. Due to the popularity of this show, attendees utilizing free seating are encouraged to arrive early to ensure entry. Free ice cream and other pre-performance activities for children will precede the show as long as time and supplies permit. Click here to purchase tickets.

The amenities afforded the community living in The Woodlands are outstanding and numerous, as we all know well. Waterway Nights Concert Series hosted by The Woodlands Township is a must-do activity. Musicians perform in the picturesque setting of Waterway Square as residents enjoy the free concert. Children splash in the water feature as families and friends spread a picnic and relax, making memories which will last a lifetime. On Saturday, June 1 come on down for the Waterway Night's evening with the Secret Party Band. Click here to listen to a sampling of Secret Party Band's pop music. The concert begins at 6:30 p.m. Lawn chairs and coolers welcome but remember glass prohibited.