/

/

Golfers tee off to help the homeless: Golf for Hope Tournament raises funds for Hope Beyond Bridges
Golfers tee off to help the homeless: Golf for Hope Tournament raises funds for Hope Beyond Bridges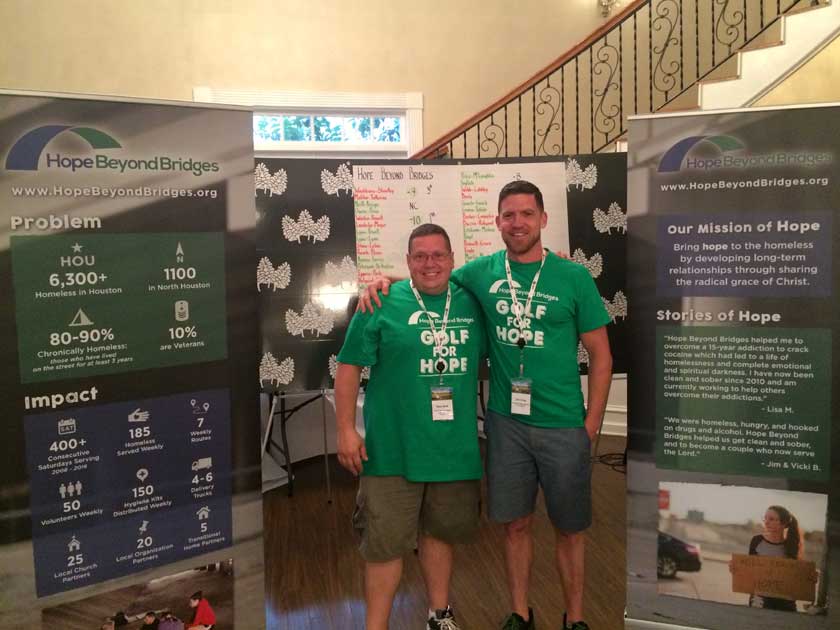 THE WOODLANDS, TX -- Over 1,000 unsheltered homeless people live in Harris County. Golfers throughout the Houston area gathered to make a difference at the third annual Hope Beyond Bridges Golf for Hope on May 7, 2019.

While they swing their club and improve their stroke during the fun tournament, golfers are introduced to Hope Beyond Bridges and motivated to get involved. The goal of raising needed funds and spreading awareness about the situation of homeless was once again achieved at this year's event.

Hope Beyond Bridges has helped the homeless in Harris County for 10 years. The Saturday Outreach Program focuses primarily on bringing hope to the homeless by sharing the gospel of Jesus Christ and offering support through lasting relationships.

With an ever-growing need and the expansion of the outreach program, The Hope for Golf fundraising event was born to ensure continued support could be offered to the homeless. "Realizing that the need was beginning to outweigh our operating budget, we decided to hold the tournament to assist us in securing enough funds to continue serving those in need," David Droll, founder and executive director for Hope Beyond Bridges, said. "We are 100 percent donor-funded, with no additional revenue sources, so we had to be creative when deciding how to raise funds and Golf for Hope met that need."

Businesses such as Strike, Houston Spine and Sports Medicine, Texas Fence, Joni B's Events and BMW of The Woodlands have partnered with Hope Beyond Bridges. Their contributions are appreciated and go a long way in supporting the cause.

"Funds raised through Golf for Hope are used to support our mission and vision which includes weekly outreach, and hygiene kits to the homeless, and our continued expansion throughout Montgomery and Harris counties," Droll said. "We are also focusing our efforts on the potential of creating the Hope Beyond Bridges Recovery Center to further our goals of helping the homeless in our community."

Hope Beyond Bridges is thankful for all the support and participation at Golf for Hope 2019. If you would like to know more about how to donate, volunteer or contribute to this charity, visit their website or find them on Facebook and Instagram. If you missed out on Hope for Golf, be sure to attend the 2019 Hope Beyond Bridges Let's Go Glamping Gala November 9 at BMW of The Woodlands.