/

/

Experience Spellbinding Entertainment at The Woodlands Children's Museum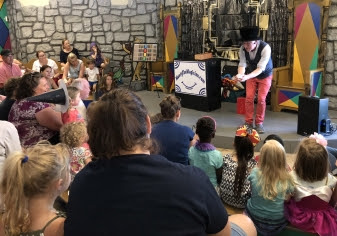 THE WOODLANDS, TX -- Families can watch several magicians perform feats of wonder, share some laughs and create enchanting works of art during Magic Day at The Woodlands Children's Museum Friday, June 14.
Magic Day features magicians, art projects and face painting
Magic Day will take place at 4775 W. Panther Creek Drive, The Woodlands, TX 77381.
"Magic shows are a wonderful way to ignite children's imaginations and help them see the world with a sense of wonder," Executive Director Angela Colton said. "Each of the magicians appearing at the museum during Magic Day has a talent for connecting with young audiences. We know the children who see them will be mesmerized."
During Magic Day, Monty the Magician will perform at 10:30 and 11:15 a.m., and noon. Monty is known for weaving humor into his child-friendly performances.
Scott Hollingsworth will perform at 12:30, 1:15 and 2 p.m. This long-time magician is the author of several magic books and the winner of numerous magic association awards.
Families can see performances by Professor Hughdini at 2:45, 3:15 and 3:45 p.m. Professor Hughdini has been providing magical entertainment for more than 30 years at events ranging from children's birthday parties to family events.
Throughout Magic Day, children will be able to fashion magic wands in the MUSE art bar area so they can perfect their own magical performances.
They also can create magic hats—an important part of any magician's wardrobe—and have their faces painted.
To ensure a fun, safe experience for visitors, museum admissions will be limited.
Magic Day is included in the museum's regular $7 admission price for visitors age 1 and older.
The Woodlands Children's Museum is recommended for ages 7 and under. Children must be accompanied by an adult at all times.
For more information, visit woodlandschildrensmuseum.org or call 281-465-0955.
About The Woodlands Children's Museum
The Woodlands Children's Museum, a 501(c)3 nonprofit organization, was founded out of a desire to meet the community's proven need for a positive environment where children and their families can learn, play and make special memories throughout the year. At the museum, fun and learning go hand in hand, whether children are creating art, singing along to a musical performance or conducting a science experiment. The museum also has made it a priority to bring children multi-ethnic and multicultural experiences that celebrate cultural and global differences and strengthen common bonds. Programs frequently are delivered in partnership with other nonprofit organizations, always with the goal of making a positive difference in the life of a child. woodlandschildrensmuseum.org.