/

/

Texas Health and Human Services Calls on Texans to Wear Blue for Men's Health June 14
Texas Health and Human Services Calls on Texans to Wear Blue for Men's Health June 14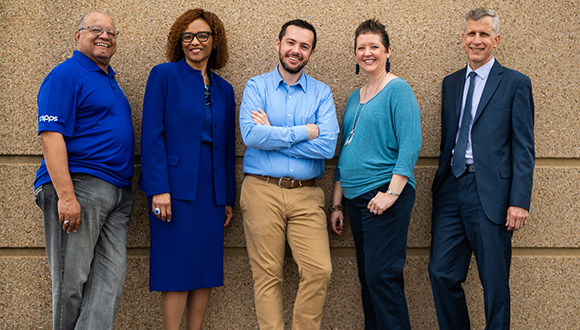 AUSTIN, TX -- State health officials are calling on Texans to wear blue June 14 to commemorate National Men's Health Week and honor those who have overcome health challenges.
Texas Encourages Men to Get Checkups, Timely Screenings
The purpose of Men's Health Week is to increase awareness of preventable health problems and encourage early detection and treatment of disease among men and boys. This year NMHW is June 10 through Father's Day, June 16.
"We want all Texans to make their health and well-being a priority. This week is about encouraging our sons, brothers, fathers and friends to step up and make time for their health," said Texas Health and Human Services Executive Commissioner Dr. Courtney N. Phillips. "It's so important for men and boys to go to the doctor routinely, take care of their mental health, and work on building healthy habits that can last a lifetime."
Through programs, services and public awareness, Texas health officials aim to improve men's health overall and are closely monitoring metrics, health rankings and leading causes of death. In Texas, 18 percent of adult men report fair or poor health status, compared with 17 percent nationwide; 27 percent of adult men report poor mental health status, compared with 30 percent nationwide. Heart disease, cancer and diabetes are among the leading causes of death, and colorectal cancer is the fourth most common cancer in the U.S. and Texas. Diabetes disproportionately impacts men and minority groups; 12.4 percent of Texas men have diabetes, compared with 10.1 percent of Texas women.
Men are encouraged to talk with their physicians and ask what screenings would be appropriate for them. Health issues for men to discuss with their physician may include risks related to mental health and substance use, prostate and colorectal cancer, diabetes, and heart disease.
Texas HHS is encouraging the use of the #HealthyMenHealthyFamilies hashtag to highlight local efforts along with the #MensHealthWeek national hashtag. HHS employees statewide will wear blue and show their support through photos.
More information is available at hhs.texas.gov. Texas residents can dial 2-1-1 to learn about programs and services. To learn more about NMHW and Men's Health Month, visit www.menshealthmonth.org.