Mr. Handyman of The Woodlands takes the weight of home maintenance off your shoulders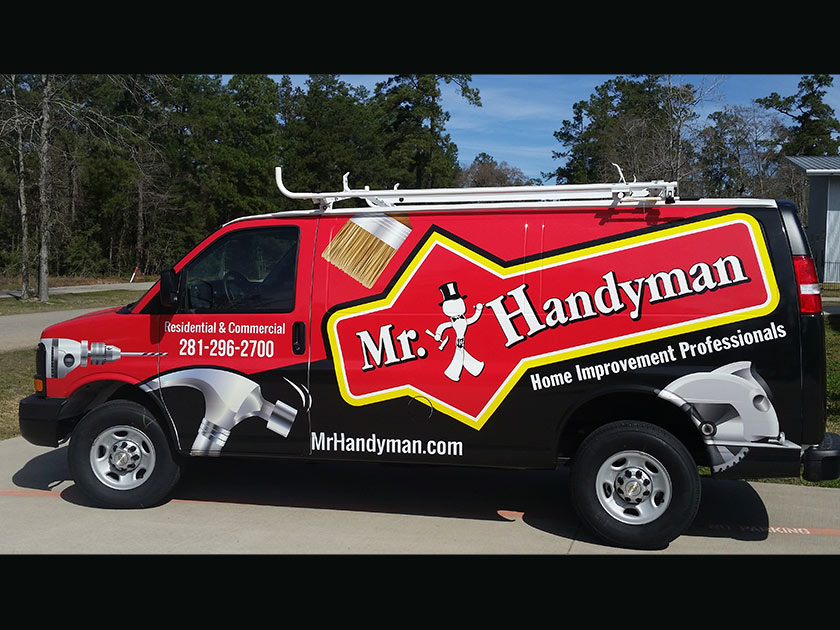 THE WOODLANDS, TX -- Filled with excitement, you are handed the keys to your new home. This memorable time is filled with hopes and dreams of life in your new residence. Whether that occasion was years, months or days ago, the weighty responsibility of caring for a home sets in quickly after moving in. The work of maintaining your abode falls on your shoulders. Mr. Handyman of The Woodlands steps in to lighten the load of needed upkeep. With a 100 percent satisfaction guarantee, Mr. Handyman of The Woodlands is a crew of professionals you will want to have on your side as you tackle the projects that lie ahead.

On the subject of hiring a handyman, let us address a common misconception. Some people perceive a handyman as "a jack of all trades but a master of none." "Our technicians are masters in their craft and, in most cases, have over 30 years of experience," John Van Orden, owner of Mr. Handyman of The Woodlands, said. "They are professionals that can perform at the same level in many areas as someone who specializes in one trade."

The size of the projects and the skills necessary to complete the work a home needs vary tremendously. It can be overwhelming to coordinate and schedule specialized professionals for each task you need a hand with from a leaky pipe to a full bathroom remodel. Mr. Handyman provides customers with a one-call solution. Say goodbye to your list of home improvements and repairs with help from Mr. Handyman.

Mr. Handyman of The Woodlands earned the community's vote as a "Best of The Woodlands" winner for 10 consecutive years. An excelling reputation coupled with the 100 percent customer satisfaction guarantee instills confidence in the choice to trust Mr. Handyman with the task of caring for your home.

In our area, Mr. Handyman of The Woodlands is often seen installing doors, repairing drywall and hanging pictures or mirrors. Projects such as custom cabinet fabrication and installation and home upgrade and remodel work fall within the scope and skill level offered by the experienced technicians. No job seems too big or small for Mr. Handyman of The Woodlands. For most (if not all) of the projects on your to-do list, Mr. Handyman has you covered.

"We have established relationships with customers, and they feel comfortable with asking us to help with all types of issues," Van Orden said. "We have planted flowers in flower pots, programmed their TV remote controls, even buried a customer's beloved cat."

YouTube, HGTV and how-to books generate a do-it-yourself (DIY) mentality, which is growing among the population. DIYers believe they are qualified to handle repairs and projects without any assistance. While this approach may work well for some, that is not always the case.

"I have learned in this business that even if you have the 'know how' to do a project, most DIYers have some limitations on the 'can do,'" Van Orden said. "You can tell the difference with the end product when performed by a skilled technician."

According to Van Orden, certain projects are better suited for a professional, while some tasks can be successfully done alone. "Drywall texture matching is an art that takes years to develop. Exterior door installation and crown molding are projects that require a professional carpenter. Replacing door hardware, caulking a shower or replacing door trim are more straightforward projects that require less experience."

One of the best things homeowners can do to avoid unnecessary repair bills is to address issues, even the seemingly unimportant ones, right away. "Stay on top of the small things, as today's small problems can turn into tomorrow's major problem," Van Orden said. Items such as replacing air conditioning filters, changing smoke detector batteries, and caulking showers and bathtubs are important maintenance items homeowners can care for themselves.

Inevitably something will arise requiring the attention of a professional. Calling in the expertise of Mr. Handyman of The Woodlands makes the process of getting work done smooth and painless. Give Mr. Handyman a call at (281) 823-7143 or visit their website to learn more.