/

/

Entergy Texas is Prepared for Potential Severe Weather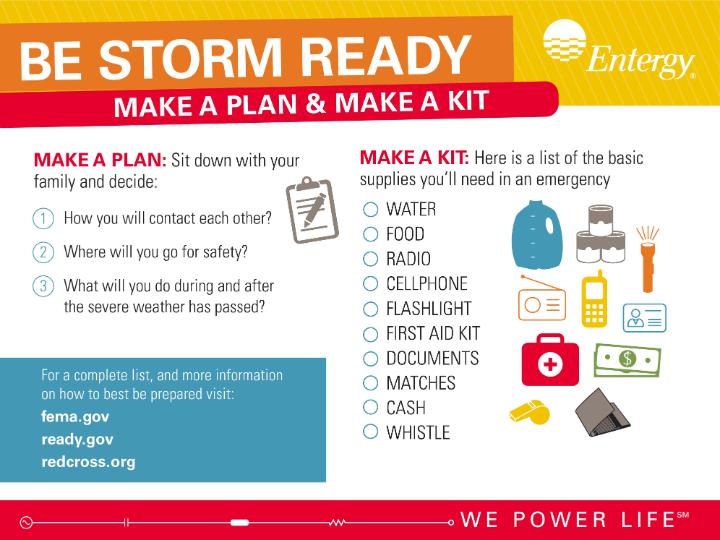 BEAUMONT, TX– Entergy Texas continues to monitor the disturbance in the Gulf that has the potential to impact the upper Texas coast. While there is still some uncertainty on the storm's exact path and strength when making landfall, this weather system could bring heavy rains, severe thunderstorms and high winds to the state this weekend.

Entergy Texas is preparing for the storm's impact and the potential for power outages. Distribution and transmission crews and contractors are on alert and ready to safely restore service to customers as quickly as possible.

"We are urging our customers to stay informed and continue to monitor the storm's path," said Allen East, vice president of distribution operations for Entergy Texas, Inc. "As the company continues to prepare, so should our customers. Visit the Entergy Storm Center website for tips and information that can help in planning and making necessary decisions."

Stay prepared and informed

Entergy keeps customers informed about restoring power in several ways:

- A free app is available for iPhone or Android at entergyapp.com. Customers can use the app to report outages or check on the status of power at their homes or businesses.
- Entergy's outage map shows where outages are located and gives information about restoration progress.
- Customers can send and receive text messages about storm and restoration efforts. Signing up is easy: simply text REG to 368374.
- The Entergy Storm Center has storm safety, preparation, restoration and other information that is regularly updated.

Customers are encouraged to follow us on social media on Twitter @EntergyTX and at facebook.com/EntergyTX. We place a high priority on keeping our social media sites updated throughout any major events.