/

/

The Republic Grille donates to first responder charities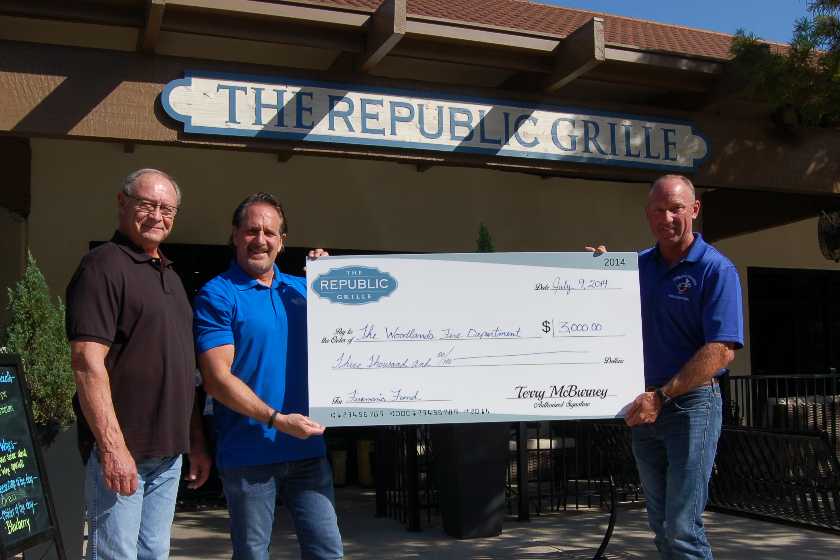 THE WOODLANDS, TX -- On the heels of the 5th anniversary of The Republic Grille's original location in The Woodlands Panther Creek Shopping Center, $6,000 has been donated to local first responder charities.

During the week-long celebration in May, a portion of lunch and dinner proceeds were designated to be given to The Woodlands Fire Department and the Montgomery County Sheriff's Office.

"We are extremely proud to give back to those who put their lives on the line each and every day to keep us out of harm's way," said Terry McBurney, Founder and Managing Partner of The Republic Grille. "The community displayed their support and helped us celebrate this milestone, which in turn enabled us to recognize our local first responders and the vital work they do."

Recently, McBurney presented a check for $3,000 to Erik Secrest of The Woodlands Professional Fire Fighters Association and Wayne Walker, Retired Deputy Chief, The Woodlands Fire Department, and a $3,000 check to Steve Squier of the Montgomery County Sheriff's Office Officers Fund.

The Republic Grille is well known for its award-winning, high-quality, reasonably-priced Texas cuisine with a Southern twist. The full-service restaurant offers guests a relaxing, charming Hill Country ambiance.

In addition to the Panther Creek location, The Republic Grille has a second location in the west Woodlands / Magnolia area at the intersection of Woodlands Parkway and F.M. 2978. Plans for adding a third location in the Spring area will be announced soon. Open for lunch and dinner seven days a week, The Republic Grille is often rated #1 on Trip Advisor.

For more information visit www. http://therepublicgrille.com, or call (281) 719-5895 (Panther Creek) and (281) 789-7119 (West Woodlands). Follow The Republic Grille on Facebook at https://www.facebook.com/therepublicgrilleofthewoodlands/.