/

/

Zanti Cucina Italiana opens; serving up authentic Italian dishes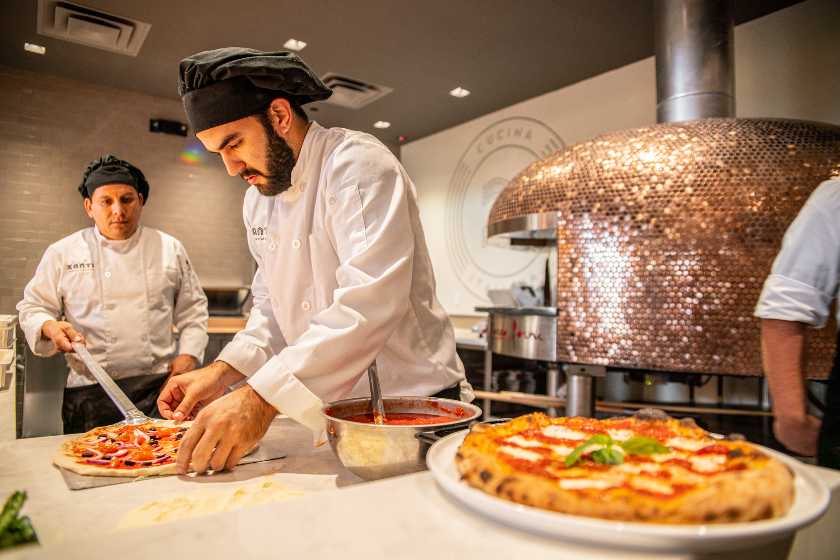 THE WOODLANDS, TX -- After two years of planning and a recent week-long soft opening, Zanti Cucina Italiana has officially opened its doors to the public in the new Westgate Crossing Shopping Center at the corner of 10000 Research Forest Drive and Egypt Lane in The Woodlands and Magnolia area.

Zanti Cucina Italiana presents authentic, traditional Italian cuisine in a high-end, yet casual, atmosphere. As the first concept of its kind, the restaurant is owned by the Pelaez brothers who come from a long line of family-owned hospitality businesses.

Executive Chef Stefano Ferrero, who grew up in Italy, orchestrates the kitchen with an extensive menu that includes some of his favorite recipes inherited from his grandmother.

Hand-made pasta is prepared daily in the kitchen and delicious pizzas with perfect texture crust are baked in a large, gleaming, copper-embellished oven which is the focal point of the restaurant.

Leading the appetizers selections are the Shrimp, Quinoa, & Farro Salad and the Zanti's Artichoke with pancetta, sun-dried tomatoes, Stracciatella cheese, white wine, and olive oil.

Among the popular pizzas is Stefano's Pizza made with burrata cheese, truffle oil, mushroom cream, and smoked prosciutto speck, and the Proscuitto with fresh arugula.

Highlighting the array of entrees are the Braised Lamb Ossobuco with saffron risotto, and the Mediterranean Salmon complemented by a delicious lemon butter sauce, broccolini, and capers.

Freshly-made pasta selections include the amazing Ravioli Del-Plin rich with artichoke, ricotta, cherry heirloom tomatoes, fresh basil and white wine sauce, and the Truffle & Cheese Ravioli with fontina, taleggio and burrata cheese with Parmesan sauce and truffle oil.

Among the house favorite desserts are the White Chocolate Cannoli with ricotta and white chocolate filling, dark chocolate and berries, and the Vanilla Panna Cotta with red berry coulis.

Along with an array of carefully selected wines, the bar offerings also feature signature spirits showcased with the Double D made with Sauza jalapeño-infused tequila, honey, and fresh lemon juice; the Rumchata Martini made with Rumchata, Sobieski vodka, Kahlua and espresso; and the Margarita Italiana made with Herradurra Reposado, fresh lime juice, Cointreau, and Disaronno amaretto at the forefront.

The ambiance is perfected by contemporary décor that feels upscale yet exudes a casual vibe for patrons to feel welcome and comfortable. The 9,000-square-foot restaurant can accommodate about 227 guests among its open dining area with tables and booths, beautifully appointed open bar, "Tavola del chef" chef's table, private dining room, and the charming enclosed climate-comfortable patio.

Zanti Cucina Italiana is a member of The Woodlands Area Chamber of Commerce and the Magnolia Parkway Chamber of Commerce. Community-minded, it is a proud supporter of YES to YOUTH – Montgomery County Youth Services.

Zanti Cucina Italiana is open for lunch and dinner seven days a week. For more information, visit www.zanticucina.com. For additional details, find us on Facebook and Instagram.