/

/

First graduating class of McCullough High School celebrates 40th reunion this month
First graduating class of McCullough High School celebrates 40th reunion this month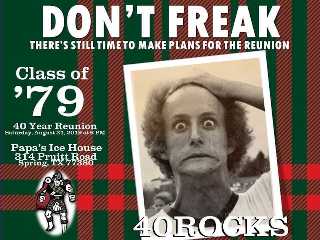 THE WOODLANDS, TX -- The first graduating class of McCullough High School in The Woodlands (now McCullough Junior High) is celebrating their 40th year reunion August 31. The McCullough graduating class of 1979 will be meeting together for the fifth time to reminisce and make memories.

The class of '79 were "essentially seniors for three years," Jill Silman, one of the reunion committee members and graduates, said. "They opened the school when we were sophomores. Our first year, it was [grades] seventh, eighth, ninth and tenth. The next year, it was seventh through eleventh grade (and that's when the hallways and lunches got crowded). And our senior year it was just ninth through twelfth grade."

Forty years later the historic graduating class of The Woodlands are meeting for a reunion loaded with activities. Friday, August 30, they will host an event at B52 Brewing in Conroe. The Conroe High School graduating class of 1979 has been invited to join as well, since the McC class attended junior high and ninth grade with them. Saturday, August 31, there is a golf tournament at Woodforest and a tea at a class member's home in Oak Ridge. Saturday night at 6 p.m. they will gather together at Papa's Ice House, where the band "Mystery," will be reunited once again for a special performance.

"The band was made up of guys from our class and one little brother," Silman said. "Lisa Miller sang and played keyboard for them at times as the only girl in the band. Band members included Dave Roberts, Lance Kappel, Derek Zock, Scott Jones, Billy O'Dell and Jeff O'Dell. They covered songs from the mid-to-late '70s. "Hot Child in the City" and Foreigner; Boston and The Eagles...stuff like that. Their business card tagline was: 'put a little Mystery in your life…' When we think about those days and "Mystery," most of us zero in on the time they performed during our Gathering of the Clan pep rally. We couldn't have homecoming because no one had ever graduated! So our senior year we had the Gathering of the Clan, which was homecoming-ish. We wore mums (not nearly the size of mums now) and we elected a Queen—Tresa Kneisel."

The class of 1979 boasted over 400 students but they were a close group of classmates.

"We had awesome teachers and grew pretty close to a lot of them," Silman said. "It's super cool now to see how many of our classmates are connected and/or friends with our teachers; teachers who really poured into us and were passionate about our success. [It was] also neat that we were able to establish traditions, some of which they still observe (even though they may look slightly different) today."

Reunion committee member Cathy Mullinax Rohde said her favorite thing about being the first graduating class was "setting traditions that have meandered through the years (decades) that created a culture."

Brenda DeBerry, another committee member echoed, "The camaraderie that continues today, 40 years later [is my favorite thing]. It was a special time, in a special place where strong bonds were formed. We weren't just classmates, we became a clan."

Patty Cohea then said, "Forget that...we were first!"

Being the first graduating class in The Woodlands is special indeed. Forty years later, graduates from The Woodlands don't even graduate in the same zip code as the class of 1979 did. And all these years later, the word camaraderie still best defines their class.

This graduating class is so special because of "how many in our class come together in supporting others, whatever the circumstances," Beverly Sulgrove, committee member, said.

Congratulations to the 1979 graduating class of McCullough High School! We hope your upcoming reunion this month is filled with lots of laughter, love and memories, and of course, some rockin' tunes courtesy of "Mystery."

For more information about the reunion, visit the reunion's official Facebook page.