/

/

Military Veteran and Family Receive Keys to Their New Mortgage-Free Home in The Woodlands Hills During Dedication Ceremony
Military Veteran and Family Receive Keys to Their New Mortgage-Free Home in The Woodlands Hills During Dedication Ceremony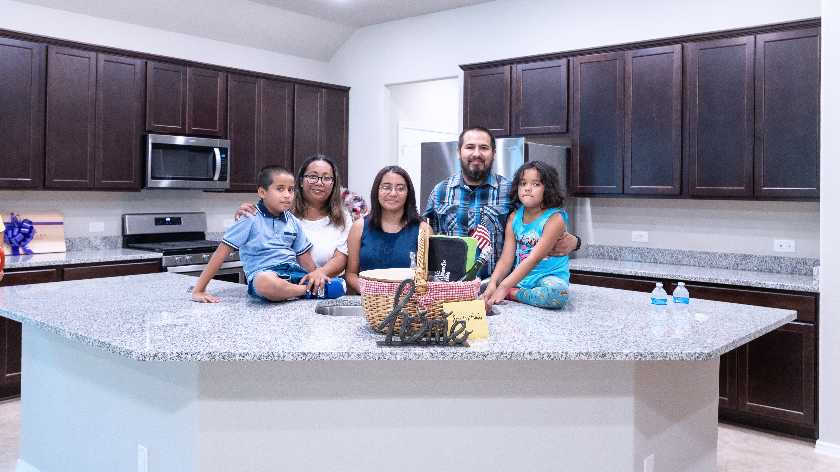 THE WOODLANDS, TX – U.S. Army Sergeant Roland Sengstock and his family joined representatives from Operation FINALLY HOME, Century Communities, The Howard Hughes Corporation®, Greater Houston Builders Association (GHBA) and the Houston Texans, Tuesday (August 13), to celebrate the dedication of their new mortgage-free home in The Woodlands Hills®. It was the 165th home dedication for deserving veterans through Operation FINALLY HOME.

The Woodlands Hills community, joined by Houston Texans cheerleaders and representatives from the Patriot
Guard Riders, gathered to welcome Roland and his family to their new home. The special dedication ceremony
included comments from members of the build team, Houston Texans ambassador Steve McKinney and the
Sengstock family.

"It's such a blessing to see communities come together to give back to our nation's heroes," said Dan Wallrath,
Operation FINALLY HOME founder. "We're honored to welcome Sergeant Sengstock and his family to their new home."

"Roland, we are here today to celebrate you and your families' service and sacrifice to our country," commented Heath Melton, Senior Vice President, Master Planned Communities Residential for The Howard Hughes Corporation, at the dedication.

Melton gave a special thanks to Anne, the wife of U.S. Army Sergeant Roland Sengstock. "Anne, when Roland
deployed, you were his rock, his courage and his motivation. You took on the roll of mom and dad. You "manned the fort" and provided strength…Anne, Roland and the Sengstock family, today we celebrate you…Welcome to The Woodlands Hills. Welcome to your new home!"

Following a ribbon cutting, the Sengstock family received the keys and toured their completed home for the first
time. The family was also surprised to see a fully stocked pantry thanks to donations from the build team and community. Roland expressed his gratitude for the generosity of all who made this project possible.

"I feel so blessed to have the support of these selfless organizations," said Roland. "I will never be able to fully express my gratitude. Thank you to everyone who has made this day happen."

In December 2018, the Sengstocks were surprised with the news they were receiving a custom-built, mortgage- free home during a Houston Texans game. Fans participated in "The Last Fan Standing" contest where everyone in the stadium was asked to stand in order to win prizes. Ultimately, Roland was the last one standing and was asked to come down to the field to learn what he had won. During the third quarter, he and his family were on the field when his Mystery Prize was revealed – a custom-built, mortgage-free home from Operation FINALLY HOME!

About U.S. Army Sgt. Roland Sengstock:

U.S. Army SGT Roland Sengstock spent his early years in Wisconsin and then moved to a Native American reservation in Arizona and attended multiple schools. Following high school graduation, he earned his electrical wire diploma and then entered the military based in Fort Benning, Georgia in 2002.

Following basic training, Sengstock moved to the main base in Oahu, Hawaii, and within a year, was deployed to Iraq, where he took on Quick Reaction Force (QRF) duties. His unit became the most movable unit in a warzone since the Vietnam war, and he spent his deployment searching Iraq in pursuit of combat. He experienced trauma when a 500-pound bomb knocked him unconscious and a helicopter crashed in a nearby camp. Sengstock was redeployed in 2007 to Kunar Province in Afghanistan, stationed in "the worst place on earth," coined by TIME Magazine for its notoriety as "IED Road." During this deployment, Sengstock experienced countless firefights and gruesome missions resulting in combat stress.

During back to back 15-month deployments to Iraq and Afghanistan as an Infantry grunt on the front lines, battle fatigue set in. Sengstock suffers from Post-Traumatic Stress, Traumatic Brain Injury, degenerative disc disease, facial disfigurement, allergies and migraines. For his admirable service, Sengstock received awards including a Combat Infantry Badge, two Navy and Marine Achievement Medals, NATO Medal, Meritorious Unit Commendation, Army Good Conduct Medal, National Defense Service Medal and more.

After eight years of service, Sengstock was honorably discharged and resides in Mesa, Arizona. He works as a
Security Guard Officer and helps veterans from all wars at the Mesa Vet Center. In addition, Sengstock gained an associate degree from Mesa Community College and is pursuing a Computer Science Degree.

When stationed in Hawaii, he met and married his wife, Anne, who helped him transition to civilian life. Together, they have three children, and they are looking forward to being closer to family in Houston, Texas.