/

/

Your Best Night Out Coming to First Methodist Conroe on Sept. 14th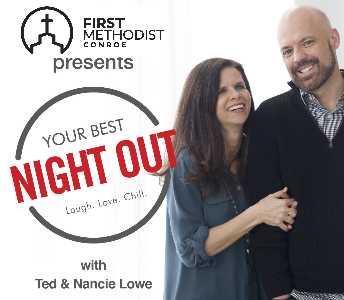 CONROE, TX -- First Methodist Conroe is bringing nationally known marriage experts, Ted and Nancie Lowe to host a a fun date night event for every couple.
A Fun Date Night Event for Every Couple
Married for more than 24 years, Ted and Nancie are speakers and authors known for their humor and practical application.
"Every married couple can use a date night. Every married couple can laugh more. Every married couple needs a little encouragement. Every married couple needs practical ways to do marriage better. Your Best Night Out gives you all of the above.
The event starts at 7:00 PM and all are welcome to attend. More information and tickets are available at https://tickets.buzztix.com/event/your-best-night-out-in-conroe.
About First Methodist Conroe: We have been serving the Conroe area for 148 years. You will find that we have an abundance of opportunities for adults of all ages, youth, and children to worship God, serve others, and grow in your relationship with Christ. We invite you to join us in pursuing Jesus together.