/

/

On the 18th Anniversary of 9/11 Attacks, Woodlands Residents Gather to Honor First Responders
On the 18th Anniversary of 9/11 Attacks, Woodlands Residents Gather to Honor First Responders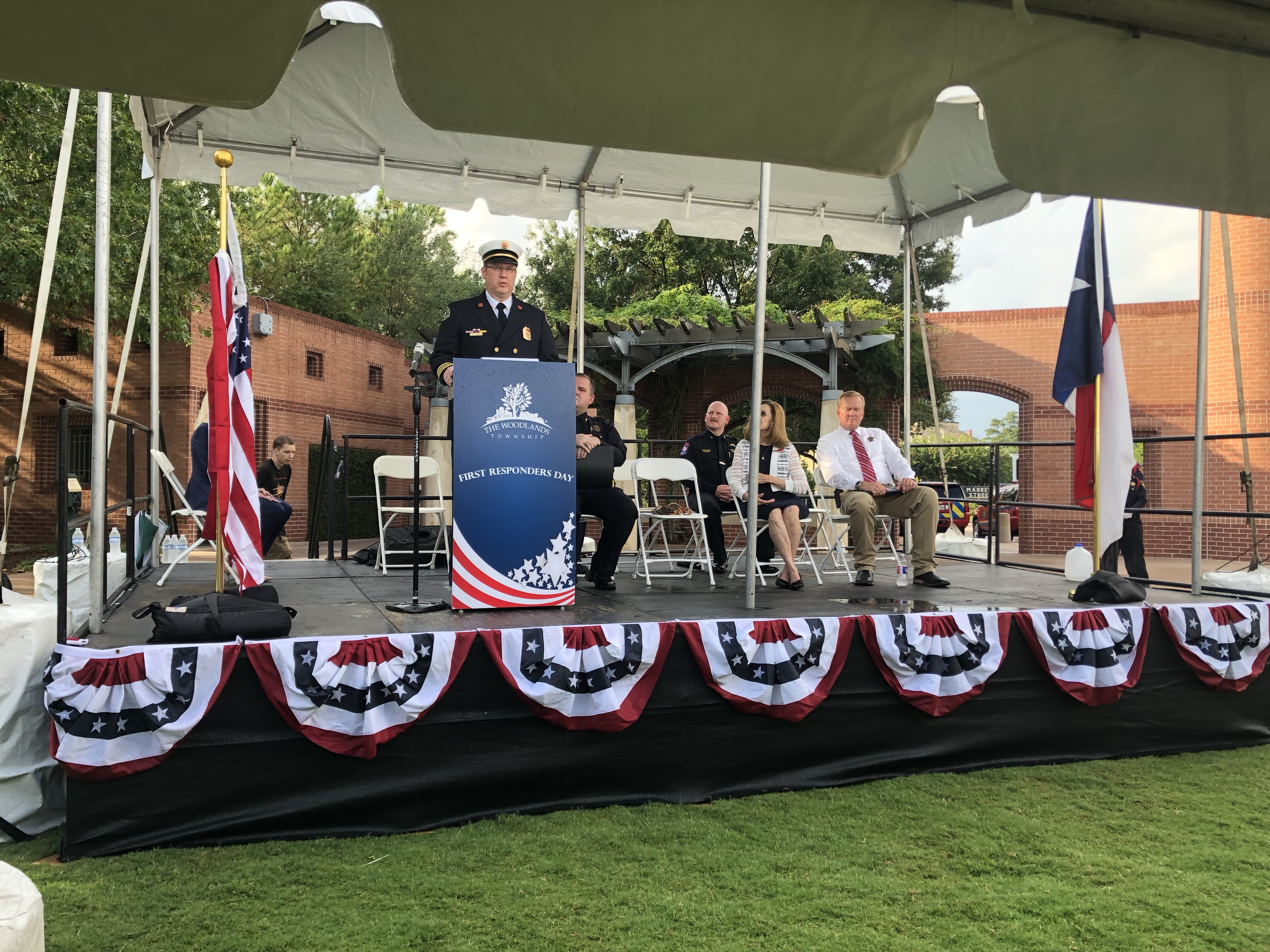 THE WOODLANDS, TX -- On the evening of September 11, 2019, residents of The Woodlands gathered with area first responders to commemorate the bravery of first responders during the events of September 11, 2001, and to reaffirm the respect and support due to all first responders present and future.

Though the late afternoon was a gray and humid one, the rain let up during the bulk of the day's proceedings. On the lawn of Town Green Park, made marshy by the day's showers, attendees huddles to hear a beautiful rendition of the national anthem and a prayer, followed by remarks from a number of area first responders.

For Interim Fire Chief Doug Adams, one of the prime takeaways after the 2001 attacks was that an emphasis on training -- broad in scope and focused on prevention -- was needed. To that end, and with the Township's support, area first responders took part in a wide array of training courses, from radiological training in Nevada to FEMA-led disaster preparedness courses in Anniston, Alabama. With the rise of new kinds of threats, where many do not feel at ease in Wal-marts, movie theaters, schools, and churches, Chief Adams brought home the need to focus on prevention, vigilance, and preparation for the unknown. A reminder to residents: "we're just a phone call away."

Montgomery County Sheriff Rand Henderson noted that, as many first responders still "bear the burden both physically and mentally of what happened that day," it is important that the community works together -- that "we have each other's backs, we don't look at each other's offices with envy, and that we support each other."

Deputy Chief Thomas Darst with the Montgomery County Hospital District spoke to his own experiences on September 11, 2001. At the time of the attacks, Darst was a music education teacher in the Dallas-Fort Worth area with no plans to join the ranks of first responders. But like many who, in the wake of 9/11, asked themselves "what can I do? What could I do if something happened here?" Darst chose in the space of a week to begin working towards attaining EMT and firefighting certifications. The rest, as he said, is history.

Additional remarks followed, as did a 21-gun salute and a rendition of Amazing Grace by a solitary bagpiper. As the looming gray clouds made good on their promise and the rain started up again, those gathered to remember the attacks which, though now 18 years removed from the present, are still fresh for many Americans, were reminded that "In one single moment life may never be the same." As we are all reminded on this day and many days throughout the year to never take one second of our lives for granted.