/

/

The Woodlands Lions Club Launches Art Contest for The Woodlands Wildflower Festival
The Woodlands Lions Club Launches Art Contest for The Woodlands Wildflower Festival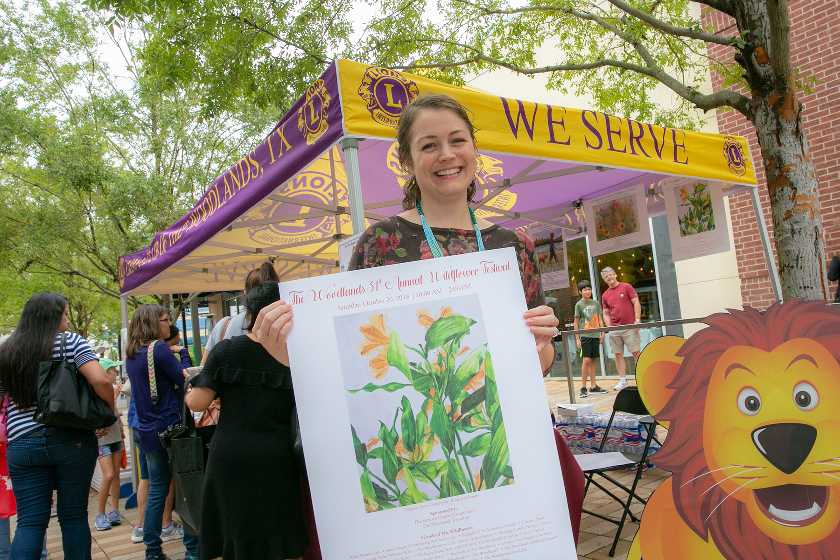 THE WOODLANDS, TX – The Woodlands Lions Club has announced that entries are now being accepted for The Woodlands Wildflower Festival Art Contest. The contest is held in conjunction with The Woodlands Wildflower Festival, a popular tradition celebrating its 32nd anniversary in the community. The Woodlands Lions Club is hosting The Woodlands Wildflower Festival on Saturday, November 9 from 10 am – 2 pm at Rob Fleming Park in the Village of Creekside Park® in The Woodlands. The Woodlands Township and The Howard Hughes Corporation® (NYSE: HHC), developer of The Woodlands, are Presenting Sponsors. Buckalew Chevrolet is a Tote Bag Sponsor.

Contest entries should portray a nature scene in the spirit of the Wildflower Festival. Interested parties should draw a favorite scene from nature on heavy, unlined white paper, canvas or poster board, no larger than 11" X 17". Preferred drawing materials are watercolors, oils, pen and ink, pastels, crayons, colored pencils or markers. No writing should be included on the front of the artwork. Photographs are not accepted.

Entries will be judged and prizes are awarded in the following categories: up to four years, five to eight years, nine to 13 years, 14-18 years and adults (age 19 and over). First place prizes of $100 will be awarded in all four children's categories. The adult first place winner will receive $300. The Grand Prize- winning entry across the four children's categories will be used on the official recycled bag that is sold at the festival, and the winning adult entry will become the official poster sold at the festival. Proceeds from the tote bags and poster sales benefit The Woodlands Lions Club. 

Entries should be labeled on the back with the name, address, phone number and age (for children's entries only). Entries may be turned in at The Howard Hughes Corporation at 1790 Hughes Landing Boulevard, Suite 600. The Howard Hughes Corporation is open Monday through Friday from 8 a.m. to 5 p.m. The deadline for entries is Wednesday, October 9 at 5 pm. The winners will be notified the following week.

This free, family-oriented event features thousands of wildflower seed packets in many different varieties that are distributed free to the community by generous seed sponsors; exhibits related to gardening and native plants; inflatable rides, entertainment and music. Lovable mascot of The Woodlands, Puffy Pine Cone®, will make special guest appearances from 11 am to 12 noon at the Festival.