EDP Luncheon Guests Hear From Commissioner James Noack of Montgomery County Precinct Three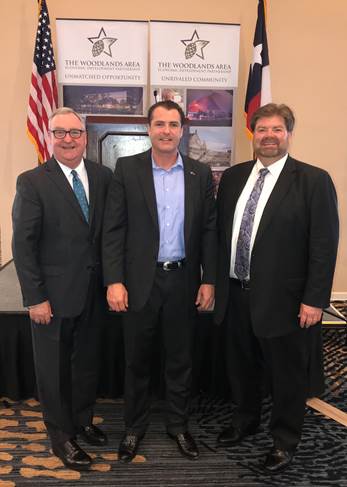 THE WOODLANDS, TX -- The Woodlands Area Economic Development Partnership (EDP) held their Quarterly Partner Luncheon at The Woodlands Resort & Conference Center on Thursday, October 17, 2019. 120 partners and guests heard from Commissioner James Noack of Montgomery County Precinct Three.

Precinct Three is located in southeast Montgomery County and encompasses several communities such as The Woodlands, Oak Ridge, Imperial Oaks, Benders Landing, and Spring Trails just to name a few. Precinct Three's mission statement is "to provide quality Government leadership and service through fiscal responsibility, transparency and diligence."

On a daily basis Montgomery County Precinct Three effectively manages 575 miles of roads and one of the largest traffic networks between Houston and Dallas. Crews are responsible for 100 traffic signals, 400 cameras, 100 miles of fiberoptic cables 1,500 network devices and has some of the most innovative and intuitive traffic technology in the State of Texas. Precinct Three also operates a recycling facility that collects over 60 tons of recyclables each year, as well as the Spring Creek Greenway and Nature Center, a 12,000-acre conservation that stretches from FM 2978 to US HWY 59. Other Precinct Three programs include the operation of the Montgomery County North Star Traffic System, Montgomery County's Mosquito Abatement Program, and the South County Community Centers.

"It was indeed a pleasure to hear from Commissioner Noack. The majority of EDP's service area is within Precinct Three and is one of the fastest growing population areas in Montgomery County. In our role as the lead economic development agency for The Woodlands area, we were keenly supportive of the Commissioner's aspiration to raise the average household income throughout the County. We join Commissioner Noack's passion to provide the public with effective services they depend on, while ensuring we are good stewards of taxpayer dollars," said Gil Staley, Chief Executive Officer.

For the past thirteen years, the EDP has held their luncheons for Partners in order to keep them informed of important issues facing businesses today. Past topics have included Economic Development, Regionalism, State of Education, Law Enforcement Update, State Economic Development and Tourism, Banking Executives Update, Life Science Update, and State of Healthcare.

Partners in attendance at the luncheon were A Strong CPA, adWhite Marketing & Design, Allegiance Bank, Amegy Bank, Ameriprise Financial - Kristin L. Young, Bank of Texas, BB&T, Briggs & Veselka Co., Caldwell Companies, Calvettti Ferguson, Cherry Creek Mortgage, City of Oak Ridge North, Consolidated Communications, Corporate Incentives, Efficient Wealth Management, First American Title, Frost Bank, Gallagher Benefit Services – a division of Arthur J. Gallagher, Houston Advanced Research Center (HARC), Harman Wealth Management LLC, Houston Methodist The Woodlands Hospital, Jones Walker, Kean Miller, Linscomb & Williams, LJF Marketing, Lone Star College, Market Street, MD Anderson Cancer Center, Memorial Hermann The Woodlands Medical Center, Montgomery County Precinct Three, Northwestern Mutual, Pioneer Bank, Richmond Realty - RE/MAX The Woodlands & Spring, Riddle & Butts, LLP Attorneys at Law, Sam Houston State University, Soules Insurance Agency, Stibbs & Co Attorneys, Texas Children's Hospital The Woodlands, The Blair Law Firm, The Howard Hughes Corporation, The Woodlands Area Chamber of Commerce, The Woodlands Christian Academy, The Woodlands Township, Tough Law Firm, United Way of Greater Houston, Wells Fargo, Westwood Magnolia Parkway Improvement District, Winstead PC, Woodforest Development, Woodforest National Bank, and Wright's Printing.

# # #

The Woodlands Area Economic Development Partnership (EDP) is a non-profit organization dedicated to promoting the economic development of The Woodlands Area through the support of existing businesses and the recruitment of new businesses that can bring job opportunities and capital investment to the area.

The EDP is a public/private partnership with 98 funding partners active in the organization. For further information on the EDP, log on to: www.edpartnership.net or call 281 363-8130.