/

/

Back at it: Local father and son team up again to create, sell shirts for non-profit partner
Back at it: Local father and son team up again to create, sell shirts for non-profit partner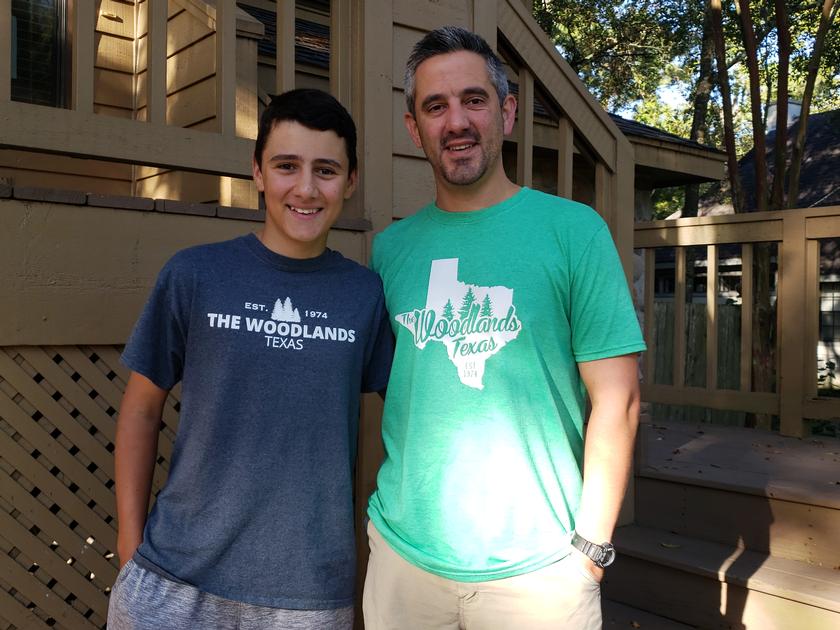 THE WOODLANDS, TX – Back in December of 2015, Woodlands Online introduced you to then 10-year-old Cody Peters and his father, Tim, who sold t-shirts for a cause. Now, four years later, the duo are back at it, creating newly designed t-shirts that benefit the Montgomery County Food Bank.

"[Cody] delivers all the shirts, he's starting to learn how to print the shirts and he's getting more educated on the true side of the business," Tim said. "The t-shirt quality is the same, we have new designs that we've come up with and we have a dedicated partner we use, which is the Montgomery County Food Bank. Close to 40% of kids are food insecure in Montgomery County, specifically on the weekends. So, we're donating a portion of every shirt sold to the Montgomery County Food Bank. We have a desire to go and help wherever we can."

In terms of the amount of shirts that will be made, Tim stated they'll make as many as are needed. The shirts are designed and printed in the family's garage. "We have the capability of printing as many as we possibly need," he said. There are four different designs of the shirt.

Making sure that the shirt designs are true to The Woodlands are something Cody and Tim pride themselves on.

"We have a license agreement with the General Council of The Woodlands Association because we're using their name, their trademark and likeness and we respect that," Tim stated. "We believe that we're producing a great, high quality product."

For sales and distribution, Cody and Tim have streamlined the process by creating an online store. "We've gone door-to-door before and were very successful doing that. But, as you can imagine, with limited time and the possibility that not everyone would answer their door, the best place for [customers] to hear about us would be through places like Woodlands Online, through other people and social media," Tim said.

Cody and Tim have already been selling shirts, but are looking to push sales through the months of October, November and December, when the need for food at the food bank is the greatest. "We really want to make sure that no kid in Montgomery County goes hungry during the holidays," Tim said.

Like many other teenagers, money is a rare commodity. The new iPhone or a new wardrobe are often on the top of teenager's "Want List." For Cody, it's more than grabbing the latest technology or fashion. "I like sharing. I get that I have all this stuff, but a lot of other kids don't, and I feel like I should let them have stuff like me," Cody said.

If Cody could give any financial advice to others his age, it would be that if you wanted something, you need to work for it. "That's the best reward, when you work for something and you get it, it feels really rewarding."

Shirts can be ordered through their web store. Each shirt sold will provide four healthy, kid-friendly meals.