/

/

The Woodlands Charities Throws a Spooktacular Event to Benefit Local Children
The Woodlands Charities Throws a Spooktacular Event to Benefit Local Children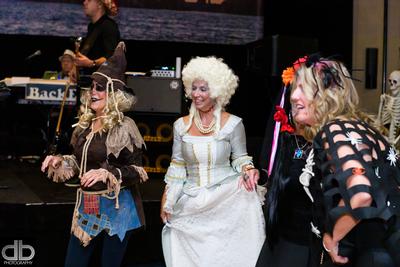 The Woodlands Charities threw a bloodcurdling event on Oct. 19 and raised money for Assistance League Montgomery County and its Operation School Bell.
The 3rd Annual Into the Woods Halloween Party raises funds to allow underprivileged students to pick out and buy new school clothes.
Assistance League began Operation School Bell in 1988 with the program clothing 33 children. Today, the project serves all six school districts in the county with over 4,000 students receiving new school annually.
'The party was so much fun and I know the money it raised is going to make a big impact in the community,' Co-Founder and Director James Stilwell said. 'That's the best part about planning these parties, knowing that it is going to help the people right here in Montgomery County.'
The party was festive with a live band and everyone dressed in costume. Guests had a chance to have their fortune read and play free casino games. The night was also complete with a jumbo dice game with the winning prize being a $1000 necklace from Robichau's Jewelry.
'Judging the costume contest was so awesome,' Co-Founder and Director Nina Marino said. 'The guests really brought their A-game. Our first-place winner was Edward Scissorhands.'
Along with the fun games, mystery boxes were also on sale. Among the top prizes were a trip to Costa Rica, Whataburger and Chick-Fil-A for a year and a Lincoln Navigator for a weekend.
'The mystery boxes were a great way to raise money for the cause and everyone got great prizes,' Beverly Haak said. 'The party was definitely a success.'
Assistance League recently helped the community during Tropical Strom Imelda after many area families were left with nothing. Through Operation School Bell, the organization was able to clothe 478 students and spent $47,775 to help replenish what was lost during the disaster.
'The tropical storm was devastating for many people in our community,' Assistance League President Judy Love said. 'I'm glad the money raised from Into the Woods is able to help replace some of the funding that was used during the emergency.'
The Woodlands Charities is currently looking for non-profits to benefit for the 2020 season. For more information and to apply, visit
The Woodlands Charities website
. Beneficiary applications must be completed by Nov. 15.
'The party went great, and this is something we all love to do,' Co-Founder and Director Amy Milstead said. 'We're looking forward to next year and helping more non-profits in our area.'
About The Woodlands Charities
The Woodlands Charities is a 501(c)(3) Non-Profit Organization founded in 2017 by Nina Marino, Amy Milstead and James Stilwell. These community leaders pooled their vast experience and formed the organization with a vision to hold fund-raisers and bring awareness for selected Montgomery County charities. Follow The Woodlands Charities on Facebook
@TheWoodlandsCharities,INC.
and on Instagram
@thewoodlandscharities.
To learn more about the Assistance League Montgomery County and Operation School Bell, visit
www.assistanceleague.org/montgomery-county/