/

/

Montgomery County Home & Outdoor Living Show February 29 & March 1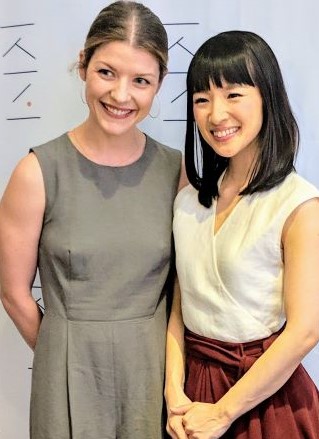 MONTGOMERY COUNTY, TX -- The 2nd Annual Montgomery County Home and Outdoor Living Show features appearances by top names in home improvement with over 200 exhibitors sharing products and services. New this year are DIY workshops! Have fun making a floral arrangement with Ashley Wallace of The Tallest Tulip. Board and Brush of Magnolia will work with attendees to build a unique wood home décor project in a fun atmosphere. Create your own and take it home! This is an event you leave with a keepsake!

Ashley Barber, Houston's First Certified KonMari Professional Organizer with Simply Maven, will answer questions one on one with ways to minimize your home to create simplicity. Get rid of the clutter and keep items that bring joy to your life. The KonMari Method is created by Marie Kondo, bestselling author and star of Netflix's hit show, Tidying Up With Marie Kondo, and founder of KonMari Media, Inc.

"I am a big believer in making space for what matters by choosing things that spark joy in an environment you can thrive in", said Ashley Barber. "I will be available Saturday to meet one on one for your personal organizing questions to create a home you love and brings you joy." Ashley will present, " Choosing Joy! An Introduction to the KonMari Method" several times Saturday.
Outdoor Perfection, the featured landscape exhibitor, will display the newest ways to remodel your yard with 20% off during the show to celebrate 20 years of business.

Talk to experts from landscaping, outdoor living, kitchen and bath remodeling, pools, attics, painters, flooring, bathtubs, skylights, pest/mosquito control, kitchen accessories, hot tubs, windows/window treatments, roofing, garages, furniture, mattresses and much more.

New this year: Coburns Kitchen and Bath Showroom will have products found on Pinterest but never in Home Depot or Lowe's including the TOTO Washlet Toilet with warm water cleansing, a rear soft spray, adjustable water pressure, and a self-cleaning wand! See the latest innovations for your next remodeling project. Warrens Southern Gardens and Warren's Outdoor Living will highlight landscape remodels and Spring gardening ideas. Katie Stavinoha, publisher of the Round Top Antiques Show Guide, will share information on the Roundtop Antique Show with 70 venues and over 4,500 dealers attracted people from across the world for antiques.

Visit the luxury kitchen and bath designs from ABM Cabinets featuring custom cabinets in granite and quartz with amazing fixtures to complement the remodel. See the newest Hunter Douglas window treatments of shades, blinds, shutters, and the newest technology of Powerview Motorization that includes safety features with app control by Simple Elegance.

Additional Professional Speakers appearing at show:
LIVE broadcast from Randy Lemmon of GardenLine on AM KTRH 740. Meet Randy and get a signed copy of his new book!
Tom Tynan, host of HomeShow Radio on KTRH 740, until 2pm both days
Dany Millikin, HomeShow Garden Pro speaking on "Unlocking a Better Lawn"
Montgomery County Master Gardeners-answering questions one-one
Brandon Heitzwebel, Landscape Designer, Warren's Outdoor Living "Benefits of using Virtual Reality in a Landscape Architectural Presentation
Mary Scalli, President, CEO, of Simple Elegance and Accredited Staging Professional Master sharing information on Hunter Douglas Window Treatments and Home Staging
Sherwin Williams Color Snap Color Consultants

Je'Nae Boyko, Color Consultant from Sherwin Williams encouraged attendees to meet one on one with her team. "Meet your local color consultants from Sherwin Williams, see the 2020 color pallets, see the color of the year and discover how to use the ColorSnap Visualizer App to explore color on your next project."

Community Assistance Center (CAC) and Inspiration Ranch are both the official non-profit partnering organizations for the Montgomery County Show. CAC is a source of hope for Montgomery County residents experiencing financial crisis in basic needs of housing, utilities, food and clothing with a goal of delivering lifelong solutions. Inspiration Ranch provides equine therapy programs to special need individuals with expertise certified through the Professional Association of Therapeutic Horsemanship International.
Show hours are 9:00 a.m. to 6:00 p.m. on Saturday, Feb.29 and 10:00 a.m. to 5:30 p.m. on Sunday, March 1 at the Lone Star Convention Center, 9055 Airport Road in Conroe. Tickets for the show are $10 for adults, $9 for seniors, and children 12 years and younger free. Visit www.TexwoodShows.com where a downloadable discount coupon for $2 off admission is available.