/

/

Paint the Town Gala Benefiting Camp for All Raises Nearly One Million Dollars
Paint the Town Gala Benefiting Camp for All Raises Nearly One Million Dollars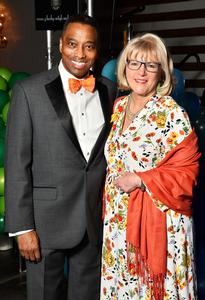 HOUSTON, TX -- ?Camp For All?, a local not-for-profit organization and unique, barrier-free camp working to enrich the lives of children and adults with challenging illnesses and special needs and their families, hosted its annual Houston gala on Saturday, January 25, 2020 at The Revaire. The gala, a bustling, color-filled affair, helps send the 11,000 campers that Camp For All serves each year to its 206-acre property outside of Burton, Texas.
Winter fundraising event supports thousands of campers with challenging illnesses and special needs
Co-chairs Beth Clarke and Lesley Schick and underwriting chair Martha White asked Houstonians to "Paint the Town" and color the campers happy at this year's vibrant event, and Houston delivered. With 60 tables sold and over 600 attendees, gala goers were swooned by Plush Party Band, KPRC Channel 2's Khambrel Marshall as M.C., and Houston artist DUAL who finished a painting on-site that was featured in the auction with 120 other items.
This year's gala honored Diann and Mike Lewter and The Mogas family. The Lewters have been a passionate part of Camp For All for the past eight years. They volunteer at camp for a full week and Mike served as Chair of the Board of Directors, leading the organization to new heights including significant facility improvements. The Mogas family have been involved with Camp For All since 1999. Louis and Marilyn Mogas have been dedicated to Camp For All and several other not-for-profit organizations in the community, including Ronald McDonald House. Matt Mogas, who currently chairs the Partner Committee and serves on the Camp For All Board of Directors, spends a week every summer at Camp For All as a cabin counselor. Melinda dedicates her life as an Occupational Therapist to children at The Westview School – a Camp For All Partner. Together they co-chaired the 2017 Camp For All gala.
Anne Marie Buckle was this year's gala speaker, a Camp For All camper for six years. Diagnosed with autism and PANS (a brain swelling syndrome), Anne Marie participates as a camper via The Monarch School and The HUB Houston, just two of the more than 65 other not-for-profit organizations that partner with Camp For All. In a moving speech about the impact of Camp For All not only on her life, but also on her friends', Anne Marie shared, "My friends and I face different challenges every day, but at Camp For All, many of those struggles disappear. No one feels pressured or left out. All of the "can'ts" become cans!?"
Camp For All supporters raised more than $920,000 in a celebratory night that included a 198-bottle wine pull, both a silent and live auction and a "Send a Camper to Camp'' paddle raise. Auction items including two coveted Kentucky Derby packages that attracted $30,000 each and a paddle raise that brought in $215,000 which propelled the organization toward its annual $2.5 million goal to support its mission and campers.
To learn more about Camp For All, visit ?www.campforall.org? or contact Lauren Miller at lauren@likemindstalk.com?.
ABOUT CAMP FOR ALL
Camp For All is a unique barrier-free camp that helps children and adults with special challenges discover life through learning what they can do, as opposed to what they can't. Opened in 1998 in Burton, TX by two Houston physicians and a father who lost his child to cancer, Camp For All is recognized as a national leader in creating and providing proven life-changing experiences through a passionate and professional staff, cutting-edge facilities and innovative programming. Camp For All enriches the lives of approximately 11,000 children, adults, and families throughout the year through collaborations and partnerships with more than 65 other non-for-profits. Programming includes Camp For All 2U, the award-winning outreach program that brings activities and programming to hospital-bound patients.