/

/

Record Number of Species Seen in Bird Count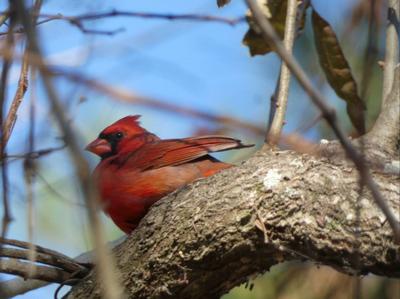 THE WOODLANDS, TX-- Officials with the Texas Master Naturalists are reporting a record number of birds counted, including sightings of endangered Red Cockaded Woodpeckers, during the recent annual Spring Creek Christmas Bird Count.
Local Chapter of Texas Master Naturalists Count More Than 100 Species in Recent Bird Tally
Volunteers from the Heartwood Chapter of the naturalists -- based in The Woodlands -- and others tallied 103 species in a single day of bird counting in an area of The Woodlands, Jones State Forest and several other locations on Dec. 14, said Claire Moore, a Texas Master Naturalist in charge of the local count.
Besides tallying the record number of 103 species, volunteers counted 4,248 birds during the count, which is above average compared to the last ten years, according to Moore. Some years as many as 6,000 birds have been counted, while other years the count has been in the low to mid 2,000s.
'We're thrilled to have completed the CBC and set a new record of species counted," Moore said. "We had 30 different occasions where only one team saw a specific bird species.'
'The volunteers are so much appreciated. We have team leaders, birders in the field, and feeder watchers," Moore said. "Everyone is out there to enjoy nature and find birds. It makes for a fun day, especially when the weather cooperates.'
Birds spotted during the count ranged from more than 500 Double-crested Cormorants and 425 Red-Wing Blackbirds, to four Bald Eagles. Also counted were three Red Cockaded Woodpeckers, an endangered species that is struggling to survive as its natural habitat of pine forests is reduced by development.
Besides counting birds in an area of The Woodlands, Jones State Forest and other locations, volunteers also tallied birds for the Cypress Creek Bird Count, which took place near the Katy Prairie area. Organizers say that was "one of the best counts ever" in both the number of observers taking part and the number of species seen.
In all, 149 species were counted across an area of 113,097 acres. Organizers reported several all-time high counts since the tally began, including the sightings of 337 White-winged Doves, 207 Blue Jays and 86 Orange Crowned Warblers.
About The Heartwood Chapter of the Texas Master Naturalists
The local chapter of the Texas Master Naturalists trains community residents who love the outdoors to volunteer and assist with conservation projects in Montgomery and Walker Counties. Besides taking part in the annual bird count, Heartwood Texas Master Naturalists are also involved in a number of other projects, including maintaining the trees and plants of Jones State Forest, taking part in a massive restoration project in Lake Livingston and restoring hummingbird habitat at Kleb Woods Nature Center in Tomball. Heartwood volunteers also helped to cultivate thousands of milkweed plants as part of a massive pollinator project with The Woodlands Township last year.
For more information on the Spring Creek Christmas Bird Count, contact Claire Moore at cdmoore3i@gmail.com or 832-372-5033. For information on the Cypress Creek Bird Count contact Megan Ahlgren at 282-357-5324.
For information on the Heartwood Chapter of the Texas Master Naturalists contact Carolyn Langlinais at (281) 851-5330 or heartwoodpres@gmail.com.