/

/

Paws For Heroes Receives $17,500 from 7x24 Exchange Texas South Chapter; Changing the Lives of Veterans
Paws For Heroes Receives $17,500 from 7x24 Exchange Texas South Chapter; Changing the Lives of Veterans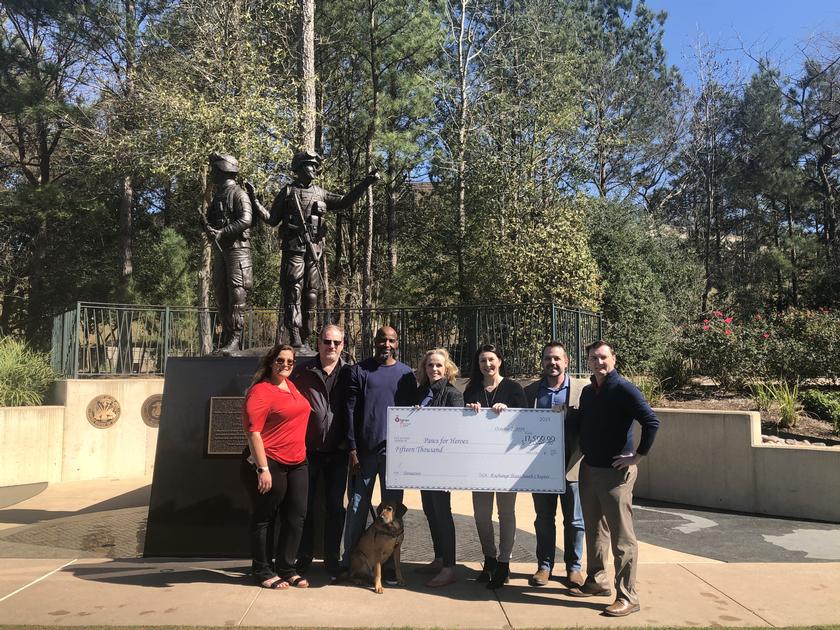 THE WOODLANDS, TX -- Each year, the 7x24 Exchange Texas South Chapter, a nonprofit that serves IT and facilities professionals by providing a local forum for information exchange, holds an annual golf tournament to raise money for local charities in the Greater Houston Area. Last year's tournament raised $17,500 for Paws For Heroes, a nonprofit that rescues homeless dogs and professionally trains them to serve as companion dogs for veterans suffering from PTSD. They presented the check Feb. 7 in front of the Veterans' Memorial Monument at Town Green Park.

Veteran Octavius Young knows first hand the life changing force behind Paws For Heroes. After his time in the military, Young was injured both physically and mentally; PTSD made it difficult for him to even leave the house. "I just wasn't doing anything," he said. That all changed when Paws For Heroes introduced him to a Labrador Retriever mix named Petey. "We connected like right away," Young said, "and I've been loving him ever since … I travel a whole lot now, we go everywhere together … I don't know what I'd do without him," he said.

"We try to stay local with our charity selection so that our community gets to feel it," said John Groenewold, Executive Vice President of the 7x24 Exchange Texas South Chapter. "With the charities that we've picked out in the last few years we're able to actually see the affect," added Golf Chairman Shannon Crowden.

The 7x24 Exchange Texas South Chapter is currently seeking a local charity to benefit from this year's golf tournament, which will take place September 30. Email suggestions to President Liz Conerly at TSC7x24@ gmail.com.

Looking to help out Paws For Heroes? Donate to them directly, or purchase one of their 'Battle Buddies', which are adorable stuffed animal replicas of the real dogs they house and train.