/

/

California Pizza Kitchen in Hughes Landing Is Open!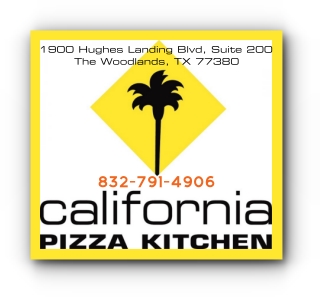 THE WOODLANDS, TX -- UPDATE: 03/19/2020 *New Hours of Operation: 11:00 AM - 7:00 PM *We WILL still be providing takeout, curbside, delivery and catering services! *Effective Thursday, March 19, 2020 and continuing until April 2, 2020 we have been ordered to cease all onsite dining by Judge Mark J. Keough.

The health and safety of our CPK community is on our minds. We want you to know that we have taken aggressive steps to ensure a clean, safe and convenient CPK experience during this unique and challenging period.

Business Hours: 12:00-8:00 PM
Services: Dine In, Takeout, Curbside Pickup and Delivery

Visit www.cpk.com for delivery options, or you can always choose to order with our 3rd party partners.

National Delivery Partners: Doordash, Grubhub, Postmates or Uber Eats

We are compliant with Montgomery County Judge, Mark J. Keough's order issued Tuesday, March 17, 2020 at 3:00 PM to not allow more than 50 people in the restaurant at one time and space all guests choosing to dine in more than 10 feet apart.

Things we are doing:
* Sanitizing all surfaces with increased frequency
* Using disinfectant certified to kill coronaviruses
* Re-spacing our tables and reducing restaurant capacity to ensure social distance
* Ensuring all our ready to eat food is prepped with gloves
* Enforcing CPK's Stricklands employee hand washing policy
* Rolling out new sanitation for guests and employees
* Prohibiting any sick employee from working at CPK

We are standing by and here if you need us!