/

/

Congressman Brady Announces Congressional Art Competition Winners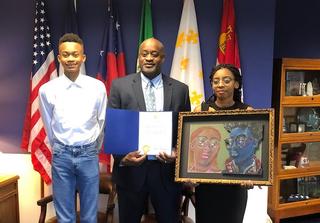 CONROE, TX - Congressman Kevin Brady announced the winner of the 2020 Congressional Art Competition. Darnise Young, a senior at Klein Oak High School, was selected for her piece, "Pensive & Brusque." Her work, as well as the other winning pieces from each congressional district, will be displayed in the halls of the United States Capitol Building for a year.

1st place winner Darnise Young
"The Congressional Art Competition is a big highpoint of the year," said Brady. "I am always impressed by the aptitude and imagination that the young artists in our district display. This competition is a great chance for high school artists in the Eighth Congressional District of Texas to demonstrate their skill, and a great way for me to bring a little bit of Texas art to the U.S. Capitol."

Second place winner Briana Matematico and Third place winner Kirthi Chandra
Briana Matematico, a senior at Porter High School was awarded second place and Kirthi Chandra, a junior at John Cooper High School was awarded third place.

BACKGROUND:

Each spring, the Congressional Institute sponsors a nation-wide high school visual art competition to identify and encourage artistic talent in the nation and in each congressional district. Since the Artistic Discovery competition began in 1982, more than 650,000 high school students have participated.