/

/

Learn How to Supercharge Your Immune System at The Woodlands Institute of Health Research's Lunch Forum; Watch It Live!
Learn How to Supercharge Your Immune System at The Woodlands Institute of Health Research's Lunch Forum; Watch It Live!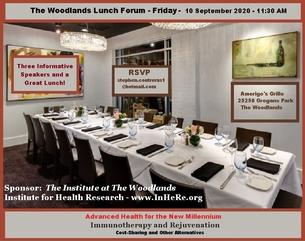 THE WOODLANDS, TX -- The Institute of Health Research will host a lunch forum, September 10 from 11:30 a.m. to 1:00 p.m. at Amerigo's Grille. You can watch it live on Woodlands Online.

"The theme of this Lunch Forum is Advanced Health for the New Millennium, Immunotherapy and Rejuvenation – Focus on Supercharged Immune Systems During Troubled Times," said Larry Deckerhoff, trusted adviser to companies and entrepreneurs in The Woodlands.

The lunch forum will include three speakers; Ralph Fucetola JD, President of The Woodlands Institute for Health Research, and two experts in rejuvenation and immunotherapies, Dr. Rima Laibow MD with Open Source Truth and Dr. Reg McDaniel M.D. with Wellness Quest LLC.

Dr. Laibow will speak at noon. Her presentation will be about Natural Immunity Solutions. She is a graduate of Albert Einstein College of Medicine (1970) who believes passionately in the right of Americans to choose their own health paths. She has practiced drug-free, natural medicine for 50 years by seeking the underlying cause of every illness and ailment and treating that root cause. She is the Founding and past President of the NeuroTherapy Certification Board, which she helped establish, in order to strengthen and develop the field of NeuroBioFeedback and bring it into wide-spread use as a powerful, non-toxic tool for modern medicine.

Because of Dr. Laibow's awareness of the powerful natural, non-toxic options available to treat the underlying cause of disease she is focused on maintaining these choices for all Americans. Based on her understanding of the impact of poor nutrition and chemical/pesticide toxicity on the declining health of America, she is determined to help Americans maintain the choices that allow them to protect themselves from disease and toxic harm.

The second speaker, Dr. McDaniel will present at 12:20 p.m. His Topic will be A Unified Field Theorem of Health and Healing. H. Reginald "Reg" McDaniel, graduated with honors from Southwestern with a double major in chemistry and biology, and completed medical school at The University of Texas Southwestern Medical School in Dallas. He has since spent 30 years practicing anatomical and clinical pathology, including positions as the Director of Pathology & Laboratories and Director of Medical Education at Dallas-Ft Worth Medical Center. He has also been on the clinical faculty as an instructor at Southwestern Medical School since 1966.

Ralph Fucetola JD will present at 12:40 p.m. covering Advanced Health for the New Millennium.

Click here to purchase an in-person ticket.

Follow this link to watch the luncheon live.

Support natural therapies and informed consent, here.

Find the Institute for Health Research's Facebook page, here.