Advanced Health for the New Millennium, Immunotherapy and Rejuvenation; The Institute of Health Research Lunch Forum Series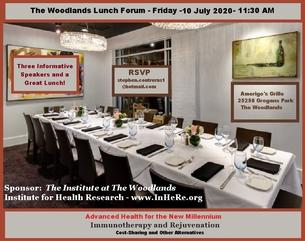 THE WOODLANDS, TX -- The Woodlands Lunch Forum Series with a luncheon event is scheduled for Friday, August 28 at Amerigo's Grille (25250 Grogans Park Drive in The Woodlands). The Forum is scheduled to start at 11:30 a.m. and last an hour and a half.

The theme of this Lunch Forum is Advanced Health for the New Millennium, Immunotherapy and Rejuvenation – Focus on Supercharged Immune Systems During Troubled Times. Among our featured speakers will be Ralph Fucetola JD, President of The Woodlands' own Institute for Health Research. He will be joined by two experts in rejuvenation and immunotherapies. The short presentations will leave plenty of time to reconnect and enjoy the extraordinary cuisine at Amerigo's Grille."

Speakers include:
• Ralph Fucetola JD – President, the Institute for Health Research – www.InHeRe.org
• Bill Hayes, NutraSpace – www.NutraSpace.com
• Elliot Gorog, Health Matching Accounts – www.healthmatchingaccounts.com

The following is a testimony by Ralph Fucetola JD – President, the Institute for Health Research:

"Here is a start to 'the bigger picture' --

The Institute for Health Research is a nongovernmental organization, and NGO, started on the East Coast in 1998. The original trustees were a physician who taught at medical school, a pioneer women vitamin company CEO, and me. I was known even back then as The Vitamin Lawyer. I became President of the institute in 2015.

Much time has passed since then and the Institute has grown to encompass several project areas. These include [1] an Institutional Review Board that works with health care practitioners who want to conduct clinical studies, to assure that these studies meet ethical standards, [2] an online Journal of advanced published since 2015, which has featured some of the most influential holistic and natural health practitioners, and [3] a research and reform effort which has included raising funds for significant issues impacting health research.

In this context we continue to support reform of insurance billing coding, working with practitioners and academics to bring attention to the need for coding reform to allow greater access to alternative and advanced health care practices. This is called 'provider nondiscrimination.' Reform of the coding system to allow more accurate holistic practices coding would have a positive impact on health care practices, saving insurers and the public significantly.

We look forward to focusing the growth of the Institute in The Woodlands. This community is forward-thinking, offering fantastic facilities and connections. We are proud to be The Institute at The Woodlands."

Interested participants are requested to RSVP to stephen.contreras1@hotmail.com – the requested donation of $75.00 includes a three course gourmet lunch. Donations in excess of luncheon value are tax-deductible.

Purchase tickets here.