/

/

Stepping Stones Preparatory Academy and Child Care Embraces Avm Research Foundation to Raise Funds
Stepping Stones Preparatory Academy and Child Care Embraces Avm Research Foundation to Raise Funds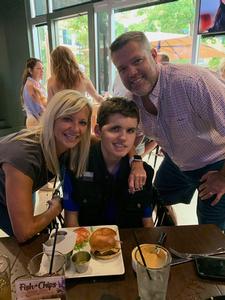 THE WOODLANDS, TX - Stepping Stones Preparatory Academy and Child Care is taking on the condition known as arteriovenous malformation (AVM) as its passion project.

A rare disorder, AVMs happen when blood vessels connecting arteries and veins get tangled, disrupting oxygen's normal flow to the brain. Those diagnosed with AVMs are at high risk for brain bleeds, stroke, or even brain damage.

Erin McDowell, co-owner of Stepping Stones, has a personal connection with the AVM Research Foundation and felt compelled to lend her business's support. Her close family friends, the Logans, founded the organization after their son, Ryan, received his AVM diagnosis in 2013.

'Stepping Stones is committed to helping raise awareness and much-needed funds for this condition, so people are aware of it and can find better and safer ways to manage it,' said McDowell. 'My son and Ryan have known each other for 10 years, meeting while playing youth football. It's only natural for my business to support Ryan and the mission of the AVM Research Foundation.'

When doctors determined that Logan had an AVM, he was experiencing severe headaches and visual disturbances. His parents were told there was no existing treatment available that could remove their son's AVM and that he should just 'live his life.'

Soon after, Logan began experiencing brain hemorrhages due to his AVM, increasing the likelihood of more headaches, seizures, or a stroke. The Logans knew they need to take action. That's when they sought the expertise of P. Roc Chen, MD, a board-certified neurosurgeon with The University of Texas Health Science Center.

Chen's team was able to remove Logan's AVM successfully throughout four brain surgeries and has gathered data to be published in a well-known medical journal, which will significantly boost the AVM Research Foundation and funding for awareness and treatment.
-MORE-

Stepping Stones Preparatory Academy and Child Care Embraces AVM Research Foundation to Raise Funds and Awareness for Rare Brain Disorder – page 2

Since his surgeries, Logan has experienced significant progress, and is AVM-free and has no more seizures.

He enjoys strength training, working at his job, playing golf, going to the theater, and fishing with his friends. And he volunteers at Stepping Stones and reads to the babies.

'I hope that Stepping Stones, as well as a host of other community supporters and friends, will enable us to raise more funds for research of AVMs and help more people like Ryan,' said McDowell.

Later this spring, Stepping Stones and other advocates for the AVM Research Foundation will host a crawfish boil benefit to increase visibility and funds for research.

For more information about Stepping Stones, visit https://www.steppingstonesprep.com/. For more information about the AVM Research Foundation, visit www.research4ryan.org.

Come out this Sunday, May 2nd to the AVM Crawfish Boil from 3p.m. - 7p.m.
Stillwater Back Porch
1488 & People Road
Conroe, Tx (follow the signs)

Crawfish, Music, Golf Competition, Dunking Booth, Mechanical Bull and LOTS OF FUN!