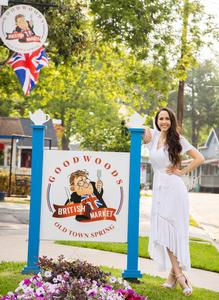 SPRING, TX -- Goodwoods British Market, a local British grocer that has been in Houston for more than 30 years, today announced that Alix Attaway has taken over new ownership of the store. Richard Goodlad, the previous owner, has retired and handed over the reins, after running the store for 31 years.
Beloved local grocery store gets new owner
Alix has more than two decades of experience in the international food distribution market and specialty grocer sector. She has worked at Goodwoods since she was 13 years old starting on the cash register and checking stock. For the past two years she has shadowed and trained under her father, previous owner, Richard Goodlad. Alix is a first generation American and a dual citizen of England. She plans to use her public relations experience to further expand Goodwoods online and in-person presence. She has just finished a full remodel of the store.
Goodwoods British Market is a family-owned store in the North Houston area that stocks the largest selection of food items from the United Kingdom. The store opened in Old Town Spring in 1991 and has since become a destination, attracting people from all over the region, anglophiles, and expats alike.