/

/

Waste Connections Golf Classic For Kids Donates $100,000 To Help Fund Programs For Children
Waste Connections Golf Classic For Kids Donates $100,000 To Help Fund Programs For Children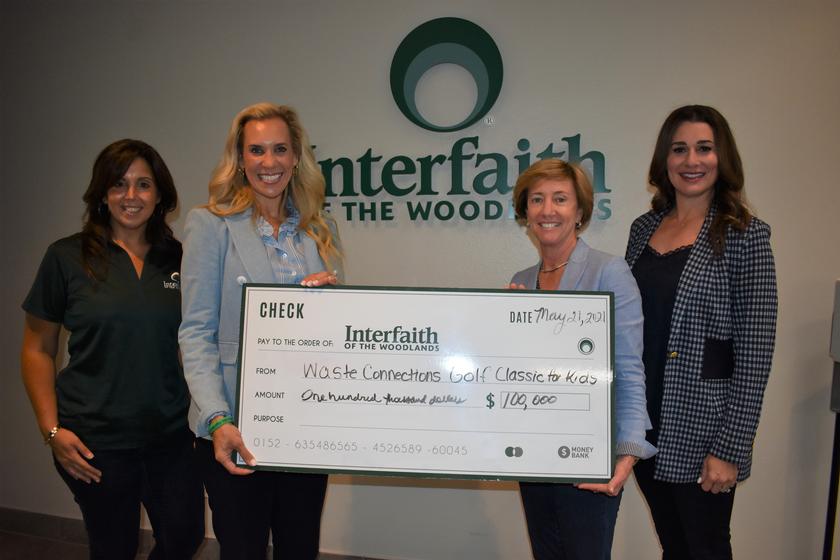 THE WOODLANDS, TX -- Interfaith of The Woodlands is a grateful beneficiary of the 13th annual Waste Connections Golf Classic for Kids, receiving $100,000 to fund basic needs assistance services for children and families in South Montgomery County.

The gift comes to Interfaith of The Woodlands during a time of expected high community need, as families continue to rebuild after the winter storm, recover from the impact of the COVID-19 pandemic and enter the summer months.

"Summer is a challenge as many families with children struggle to provide daily meals, snacks and supervised care when students are not in school. This generous gift from Waste Connections will help feed food-insecure families and keep them in their homes with rent/mortgage and utility payment assistance. These funds will also support the Kits 4 Kidz School Supplies Assistance Program providing supplies and backpacks for the new school year and support Interfaith's weekend nutrition program for students when they return to the classroom. We are deeply grateful for Waste Connections' continued support of our goal to support families in need in our community," shared Missy Herndon, President & CEO, Interfaith of The Woodlands.

Interfaith's Kits 4 Kidz School Supplies Assistance Program recently kicked off its community drives, collecting supplies and backpacks to prepare to support more than 2,000 students as they return to school in August. The Interfaith Food Pantry Program continues to support over 500 local families each month with groceries to make 4-6 meals, toiletries, paper goods, cleaning products, baby care items and produce from the Veggie Villages.

"For the past 13 years, our vendors, employees and volunteers have united together in support of this event, raising critical funds for dozens of worthwhile organizations. We are truly grateful for their continued generosity and humbled by the positive impact on the lives of so many children and families throughout Montgomery County because of this Tournament," shared Michelle Little, Executive Director with Waste Connections.