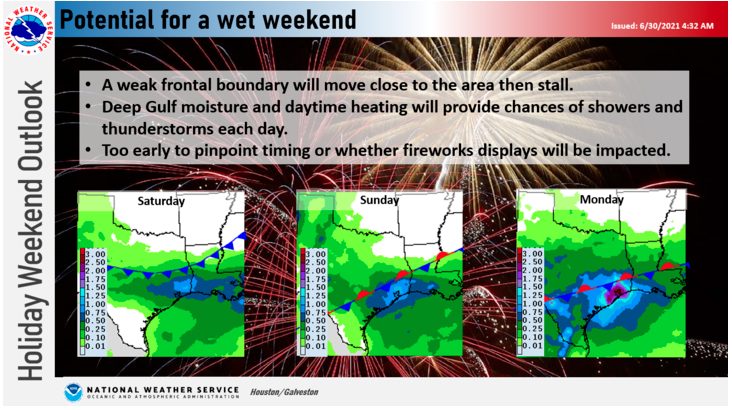 Quick Overview

A weak frontal boundary will move close to the area then stall. Deep Gulf moisture and daytime heating will provide chances of showers and thunderstorms each day. It is too early to pinpoint timing or whether firework displays will be impacted.

Through Friday Night

As surface high pressure sags southward thru the Midwest & Plains, a
diffuse frontal boundary will sag closer to ne parts of the CWA
during the day Fri and will likely serve as a focus for shra/tstm
development later in the afternoon. Some of the HREF members take
some of this activity as far south as the I-10 corridor toward early
evening. Too early to say, but will need to keep an eye on things
considering seabreeze may be up in that general vicinity by that
time and possibly provide some interactions/collisions. Regardless,
elevated moisture levels pooled ahead of this boundary will remain a thorn in our side over the weekend...

Saturday Through Thursday...

A wet period is in store for Southeast Texas this weekend and
continuing into the middle of part of next week as a weak front
sags southward and stalls across central portions of the forecast
area on Saturday. Precipitable Water (PW) values increase to
around 2.4 inches in the vicinity of the weak boundary by
Saturday, which is well above normal and highlights the
possibility of locally heavy rainfall. Although PW values
gradually decrease some early next week, they remain around or
above 2 inches through next Wednesday.