/

/

Cellar Twenty Four wine tasting event raises $3,000 for The Woodlands Firefighters Foundation
Cellar Twenty Four wine tasting event raises $3,000 for The Woodlands Firefighters Foundation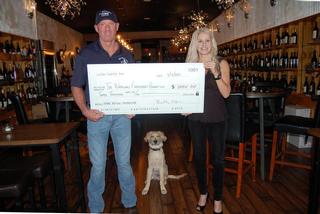 THE WOODLANDS, TX -- During a recent wine tasting fundraising event, Cellar Twenty Four raised $3,000 for The Woodlands Firefighters Foundation.

The money will benefit the foundation's Benevolence Fund which provides financial and other assistance to all first responders working in, and/or living in Montgomery County in the event of natural disaster or other financial hardship. The fund also provides annual scholarships to their members' graduating high school senior dependent children who are pursuing a college education.

"We are blessed to be a part of a community that is so supportive of all of its first responders, said Erik Secrest, Chairman of The Woodlands Firefighters Foundation. "The support we receive from each and every citizen of The Woodlands Township and all of our locally owned and operated businesses like Cellar 24 is tremendous."

He continued, "The Woodlands Firefighters Foundation raises money to provide for all first responders serving The Woodlands Township and surrounding areas in times of need. The funds allow us to provide immediate assistance during natural disasters, such as providing basic essentials for families of first responders that have been displaced or suffered significant loss of their homes, providing immediate alternative living arrangements during natural disasters, assisting with offsetting medical expenses for cancer treatments or other health-related issues, providing behavioral health and counseling services, and any other financial hardship affecting our first responders. Going forward we want to establish college scholarships for dependents of first responders as well as for local high school graduates wishing to pursue a career in a public service field whether it is in EMS, law enforcement or the fire service."

Cellar 24 is a locally-owned and operated neighborhood wine shop and tasting bar in The Woodlands located in the Sterling Ridge Shopping Center.

Owner Shelli Moran, who has been a long-time supporter of first responders, added, "It was an honor to host this event to raise funds in support of our first responders. These folks put their lives on the line to protect our community, and so we are happy to host this special event to help their benevolence fund."

Partnering distributors for the wine tasting fundraising event included Chameleon Wine Distributors, Medallion Global, Misa Imports, Republic National Distributing Co., Serendipity Wines, Vino Vero, and Vintage Select Wines.

Cellar 24 has also hosted fundraising events that have supported veteran organizations such as the Conroe VA Outpatient Clinic, Memorial Monument, the Lone Star Veterans Association, as well as local non-profits including the Montgomery County Women's Center and Panther Creek Inspiration Ranch.

Featuring an intimate yet casual ambiance, Cellar Twenty Four is located in the Sterling Ridge Shopping Center, near the northwest corner of Woodlands Parkway and Kuykendahl, to the left of the Kroger Signature Store.

Specializing in high-quality, smaller production wines from around the globe, Cellar Twenty Four offers tastings with winemakers and boutique winery owners, wines by the glass, private tastings, classes, a monthly wine club, and craft beers.

Their menu of light, small bites includes charcuterie boards, mini beef wellingtons, Caprese bruschetta, and scratch-made pizzas, along with tacos on "Taco Tuesdays" from 6-9 pm. Live music entertainment is featured on most Friday & Saturday evenings (check www.cellar-24.com for details).

Upcoming events include:

·July 30, 7-10 pm – Live music with Scott Morrison

·August 5, 6-8 pm – Charity wine tasting benefiting YES to YOUTH

·August 7, 7-10 pm – Live music with J.P. Kenrick

·August 13, 7-10 pm – Live music with Duane Duane

·August 20, 7-10 pm – Live music with Scott Morrison

·August 27, 7-10 pm – Live music with Heather Rayleen


Cellar 24 is open Mondays from 5-9 pm, Tuesdays, Wednesdays, and Thursdays from

12-9 pm, Fridays and Saturdays from 12-10 pm, and is closed on Sundays.


For more information or to rsvp for an event, visit www.cellar-24.com or call 281.419.9966. Like Cellar 24 on Facebook at https://www.facebook.com/cellar24 and follow on Instagram at https://www.instagram.com/explore/locations/644804468911098/cellar-24/.