/

/

The Rose Launches Mammogram to Medical Home Program to Increase Access to Primary Care Services
The Rose Launches Mammogram to Medical Home Program to Increase Access to Primary Care Services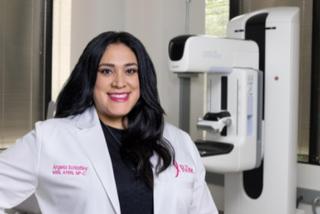 HOUSTON, TX -- The Rose is pleased to announce the creation and launch of a new program that furthers its mission to eliminate breast health care barriers for women: Mammogram to Medical Home (MTMH). The program will directly connect uninsured women to community clinics and primary care providers in addition to ensuring that women who come to The Rose without referrals can still receive a mammogram. To lead this new program, The Rose has appointed Nurse Practitioner Angela Schlafley as Director of Clinical Services.

In addition to the barriers of financial cost, lack of insurance, and lack of transportation, women who need a mammogram require a physician's referral. Of the thousands of women served by The Rose each year, roughly 1,500 uninsured women call The Rose for a screening mammogram but don't have a primary care physician. Many of these women haven't seen a doctor in ten years or since giving birth, nor do they have a medical home where a primary care provider can see to their basic health care needs. While The Rose's staff provides a listing of low-cost clinics, for most of the women, a trip to a community clinic or Federally Qualified Health Center translated to additional cost and time away from work. Far too many women gave up or decided to wait, and that decision could allow time for cancer to metastasize.

"This is an exciting time for The Rose, launching a new program that eliminates yet another barrier to care for the uninsured woman while at the same time allows her to gain access to additional healthcare providers. Our mission of access to care has never been stronger or more needed in our community."
says The Rose's CEO and co-founder Dorothy Gibbons.

The Rose's new program will achieve both short- and long-term goals for access to life-saving care for women who are uninsured and lack a physician. As Director of Clinical Services, Schlafley will conduct a health assessment, a clinical breast exam, and provide a medical order for breast imaging. A Patient Navigator will then work to find a geographically convenient medical home or primary care provider to the patient; one that offers a range of services and programs on a free or sliding scale or are within her financial means.
Angela Schlafley, MSN, APRN, NP-C, brings a wealth of experience to her new role as Director of Clinical Services. She has 15 years of experience in women's health and was most recently with Texas Children's Hospital, where she was part of the initial team that established the Texas Children's Women's Pavilion. Prior to Texas Children's, she worked as a personal trainer at Memorial Hermann Medical Center, where she specialized in Women and Adolescent Health. Schlafley earned her MS as a Family Nurse Practitioner from the University of Houston and a BS in Nursing from Texas Women's University and a BS in Fitness and Human Performance from the University of Houston.

Schlafley is driven to empower women. "My entire adult career has been focused on women's health. It is my passion. I want to create a successful program for Mammogram to Medical Home where we focus on helping women achieve optimal health and my goal is to help The Rose grow as a center of excellence that specializes in serving the health needs of women who are beyond childbirth. I want to make a difference in women's lives and help them learn to put their health first so that they can thrive in all their roles."

For more information, or to donate or volunteer, please visit www.therose.org. To schedule an interview please contact Lis Harper at 281-846-5976 or email lis@medley-inc.com.