/

/

Houston Food Bank President/CEO Brian Greene Honored with Award from The Non-Profit Times
Houston Food Bank President/CEO Brian Greene Honored with Award from The Non-Profit Times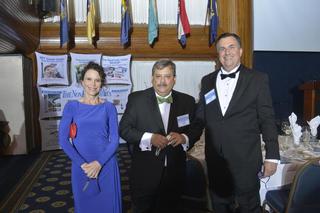 HOUSTON, TX -- Houston Food Bank is proud to share that its President/CEO Brian Greene was recently honored as one of The Non-Profit Times Power & Influence Top 50. The 24th annual awards recognized 50 top leaders from across the country, many of whom were tied to non-profits, who, with their staffs, found a way to adapt and overcome the hardship of a 100-year pandemic.

The leaders highlighted in this 24th annual NPT Power & Influence Top 50 distinguished themselves as initiators, innovators and leaders. An important criteria of the list is that the honoree must be a working day-in, day-out executive. In many cases this year day-in, day-out was 24/7/365 and still going.

"The year quite possibly launched a new era in philanthropy, with major donors and foundations eliminating the red tape and strings attached to funding. Infrastructure is finally receiving deserved respect," says Paul Clolery, NPT vice president & editorial director. "There has been voluminous coverage of the hardships but little mention of the reality that the sector's response was years in the making. The evolution of thinking, planning and implementation of 360-degree services focusing on shelter, food and healthcare is what held a nation together. Executives in some cases risked their lives – staring down threats to personal safety – to ensure those who needed help got as much as could be mustered."

"For food banks, the pandemic brought new challenges and has tested us in ways we've never been tested before," says Greene. "We had to find ways to distribute more food with increased restrictions, how to do more with less volunteers, and how to do it all while adhering to strict health and safety protocols. The solution was to pivot from our regular day-to-day operations and pull from our 'disaster playbook' to accomplish the same goals in new ways that met with our new as-contactless-as-possible world."

Demand for food assistance increased dramatically right from the start of lockdown orders in March 2020. Houston Food Bank's daily distribution doubled from the previous year, to 800,000 pounds per day and going as high as 1 million pounds per day. The numbers are staggering, but all told, in the first 12 months of the pandemic, from March 2020 to March 2021, the Houston Food Bank distributed an astounding 297,980,183 pounds of food.

(Distribution in March 2021 was at 209% of 2019's March distribution and at 174% of March 2020's; 85% increase in households provided with food assistance from March 2019 - March 2020 compared to March 2020 - March 2021.)

The Houston Food Bank is currently distributing approximately 650,000 lbs. of food per day.


"While I was personally selected for this award, it was accepted on behalf of the entire Houston Food Bank family, an immensely dedicated and hard-working team that gave their all during one of the most challenging times in all of our personal and working lives," says Greene. "I am proud of each person individually and for what we accomplished together."

The 2021 honorees were selected from a group of roughly 300 top executives. A committee of The NPT editorial staff, contributors and a few executives plugged in to executive movement were involved in the selection process. This is not a lifetime achievement award. The executives must have had an impact during the previous 12 months.

Honorees were feted in Washington, D.C. this month at the annual NPT Power & Influence Top 50 Gala at The National Press Club. Event sponsors include Mitch-Stuart, Inc., Moore, Grant Thornton, EveryAction, JMT Consulting, and data axle. One of the honorees will receive the NPT Innovator of the Year award.