/

/

The Woodlands 3R Drive-Thru Recycling event saves waste from landfill for The Woodlands Township
The Woodlands 3R Drive-Thru Recycling event saves waste from landfill for The Woodlands Township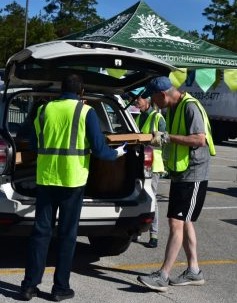 THE WOODLANDS, TX -- Residents of The Woodlands saved more than 17,000 pounds of waste from the landfill at the annual 3R Drive-Thru event on Saturday, November 13, 2021, from 9 a.m. to noon at The Woodlands High School. More than 600 vehicles drove through the event for free recycling of select items and secure document shredding.

The collected recycling materials included 9,683 pounds of shredded paper, 4,170 pounds of batteries, 593 pounds of lightbulbs, 1,500 pounds of textiles, 800 pairs of eyeglasses by The Woodlands Lions Club, 117 pounds of oral care products and two pounds of disposable razors by Junior Girl Scout Troop #108094, 22 pounds of snack and drink pouches by Hailey Elementary PTA and Wilkerson Intermediate PTO and 900 cubic feet of block Styrofoam.

Cash donations of $1,747 and 841 pounds of canned food items were also collected for Interfaith of The Woodlands Food Pantry through the on-site document shredding service. More than 80 volunteers made the 3R Drive-Thru event possible.

The Woodlands Township Environmental Services Department extends thanks to Boy Scout Troop 772, Entergy, Girl Scout Troop #108094, Houston Oasis, Texas Master Naturalist Heartwood Chapter, National Charity League Texas Laurels, Bluebonnets, and Grand Lilies Chapters (NCL) and National Charity Roundtable (NCR), Sikh Center and The Woodlands G.R.E.E.N.

The 2021 Recycling Village Challenge item was lightbulbs. The Woodlands G.R.E.E.N. awards money to participating village associations with an added amount for the villages that collected the most lightbulbs. 100 percent of these funds support youth education.

Residents who missed 3R and want to recycle material that can't go in the curbside cart can check out the Recycle More Guide at www.thewoodlandstownship-tx.gov/recyclemore.

The 3R Drive-thru is a free program of The Woodlands Township Environmental Services Department with sponsorship from Chevron-Phillips Chemical, Waste Management, Woodlands Water, The Woodlands G.R.E.E.N. and H-E-B. For more information about recycling, please visit www.thewoodlandstownship-tx.gov/recycling or contact the Township Environmental Services Department at enviro@thewoodlandstownship-tx.gov.