/

/

Fun in a Box – Woodlands Online Checks Out Electric Gamebox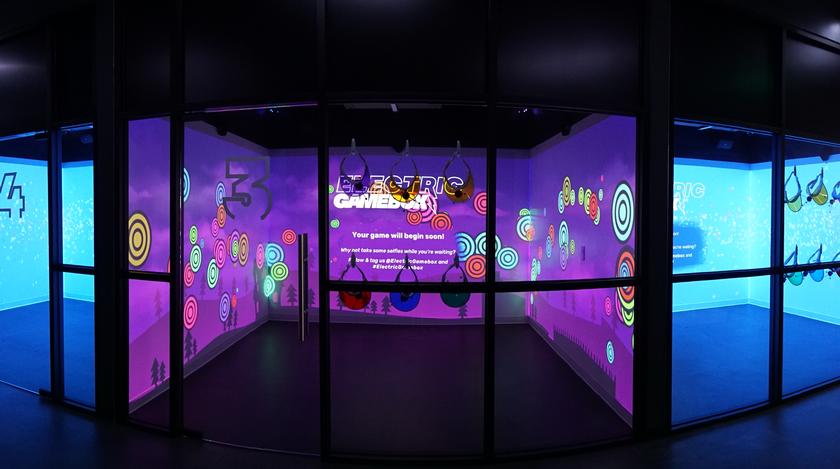 THE WOODLANDS, TX – In a peculiar shift from the past few years of electronic and virtual gaming only, more practical games have come to the forefront among families. People are craving entertainment that involves movement, and The Woodlands has a new business that fits the bill.
New immersive gaming room promises fun – and exercise – for all ages
Electric Gamebox, located in the outside courtyard at The Woodlands Mall, opened last month to great interest from local gamers and game-players alike. The business bills itself as "hyper-immersive group gaming."
Upon visiting the location, Woodlands Online staff found a unique setup for a unique gaming idea. The interior consists of a lobby area, a space reserved for lockers, and ten "boxes" of gaming rooms approximately 100 square feet each. Most of the rooms have three solid walls and one glass wall, but a few of them consist of four solid walls for additional 3D gaming.
Electric Gamebox is neither an arcade filled with console games nor an open-layout virtual reality gaming center. It lands somewhere in the middle: gamers enter their boxes and put on special one-size-fits-all visors that have constellations of sensors on them – no bulky VR headsets that cover the face and isolate the team players from each other. Each "box" can play games for 2-6 players.
Motion sensors and projectors line each solid wall, projecting either 270- or 360-degree action from floor to ceiling. The games in the system range from motion-controlled to tactile by touching the walls, and each box is fully audibly immersive with surround sound.
"We're thrilled to have opened the second Electric Gamebox in the United States," said Devon Bernal, general manager. There is another full facility in The Colony in Dallas, as well as a miniature game room in a San Antonio cinema.
"The concept originated in the United Kingdom, with Electric Gamebox being founded by Will Dean, the man behind the British television series Tough Mudder, and David Spindler, who conceived and launched the Tough Mudder Bootcamp franchise," said Bernal. "Electric Gamebox is founded on the belief that technology should bring people together, rather than drive them apart."
Each room and its equipment is thoroughly sterilized after each session, and the self-contained box-rooms allow for decent social distancing between parties.
"Suitable for everyone over 5 years, our games are fun-packed, with COVID safe activities for families, couples, or friends looking for new activities to do together," said Bernal. "Enjoy a date night with a competitive edge, or test your team-building skills with Psychedelic Mansion, or work with your friends to collect the most coins in Temple of Coins, or come together as a family team to impress aliens in Alien Aptitude Test."
One of the advantages of playing at Electric Gamebox is the price, which ranges from $5 (for 15 minutes for a child during off-peak times) to a maximum of $35 (for a full hour for an adult during peak times). Additionally, the affordability and ease of use (with sessions lasting 15 minutes, 30 minutes, or one hour), combined with the selection of games that are created in-house to fulfill the needs of all ages and health levels, make Electric Gamebox a gaming destination.
Electric Gamebox is located at The Woodlands Mall, outside in the ground-level courtyard, 1201 Lake Woodlands Drive, and is open seven days a week. Sessions can be made on a walk-in basis or by pre-booking online by
clicking here
.