/

/

Altrusa International will host the 3rd annual Rodeo Bingo Night Fundraiser February 24
Altrusa International will host the 3rd annual Rodeo Bingo Night Fundraiser February 24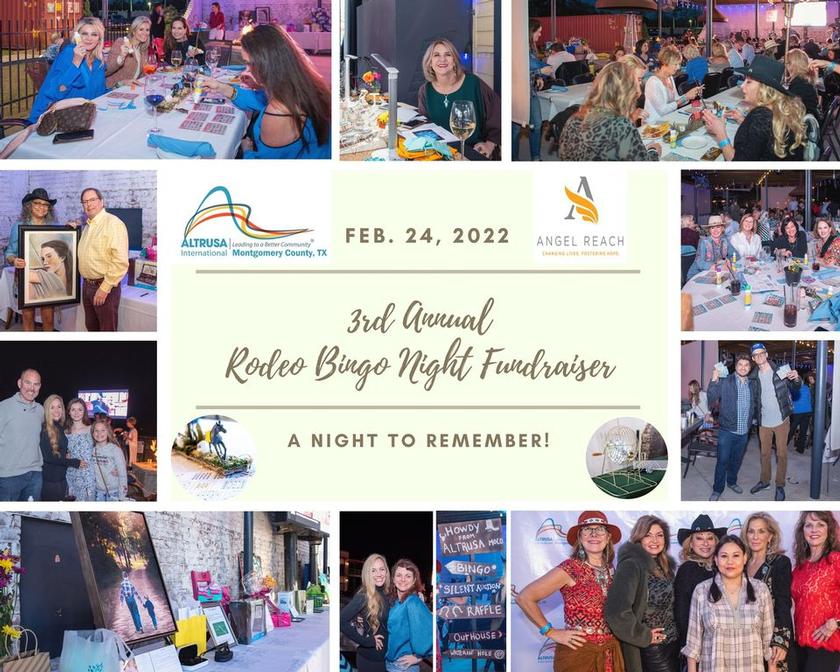 THE WOODLANDS, TX – Altrusa is in action again, this time celebrating its fun and lively 3rd Annual Rodeo Bingo Fundraiser supporting local Montgomery County Charities, taking place on February 24 at 6:00 p.m. at The Butler House. The evening is a joyful, charitable event that is perfect to spend with family and friends.
Popular event at The Butler House to benefit Angel Reach
The Altrusa mission this year is to raise money and awareness for its selected charity, Angel Reach, whose mission is to help children and youth achieve their full potential despite obstacles placed upon them by broken families and a broken system.
The Rodeo themed evening will be full of lively bingo games, a wonderful silent auction, raffles, yummy food, presentations, and more fun.
General admission with 10 bingo cards is a donation of $100; general admission without bingo is a donation of $50. Additionally, raffle tickets are a donation of $25. A table of 10 is a donation of $700, which includes 10 bingo cards and one raffle ticket per person. Discounted event tickets are available on Facebook: Altrusa International of Montgomery County, TX.
For more information or to procure tickets or a table, contact Charlotte Ammerman at phone: 469-416-5335, or email: nica2me@mac.com.