Woodforest National Bank Hosted a Grand Opening and Ribbon Cutting To Celebrate Its Newly Rebuilt Flagship Location in Downtown Conroe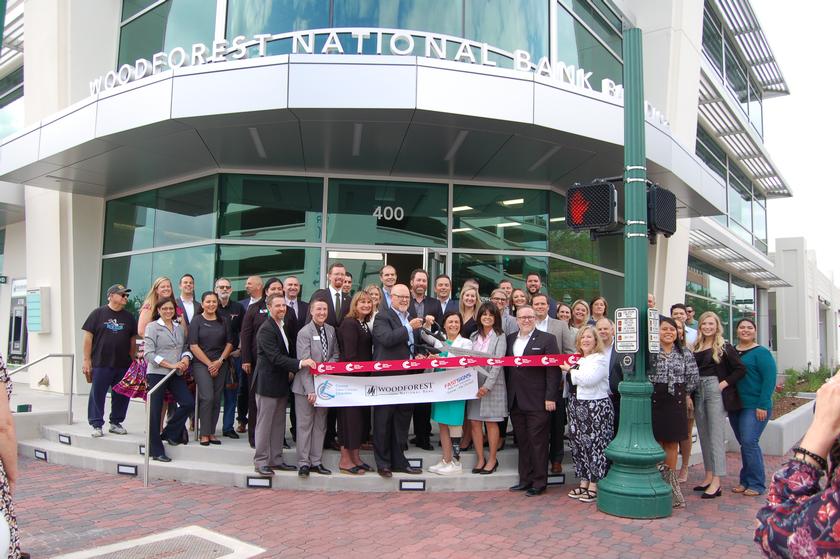 CONROE, TX -- With great excitement, Woodforest National Bank® ("Woodforest") hosted a grand opening and ribbon-cutting ceremony to celebrate the official opening of its newly re-built flagship location in historic downtown Conroe on May 4, 2022, with a festive pre-Cinco De Mayo theme.
To commemorate the event, Congressman Kevin Brady's office dedicated a United States flag to Woodforest National Bank.
The new building, located at 400 West Davis within downtown Conroe's designated Opportunity Zone, features a three-story, Class-A 32,800-square-foot mixed-use business center and bank branch. This location has a rich history in Conroe. The original building was built in 1962 and later became home to Woodforest's first branch in Conroe.
Several of Conroe's community leaders and dignitaries were in attendance, including State Representative Will Metcalf, Mayor Jody Czajkoski, Mayor Pro-Tem Raymond McDonald, City Administrator Paul Virgadamo, Conroe Downtown Manager Frank Robinson, Judge Wayne Mack, and Sheriff Rand Henderson.
Highlighting the event was the presentation of a commemorative United States flag by Craig Lewellyn of Congressman Kevin Brady's office to Jay Dreibelbis, President and CEO of Woodforest National Bank. The ribbon-cutting ceremony was officiated by the Conroe/Lake Conroe Chamber of Commerce's president Scott Harper and his team.
Dreibelbis took a moment to address the guests and said, "We are proud to celebrate this new downtown Conroe building and bank branch with the community. Conroe is a place I love and have called home for many years. Woodforest is dedicated to our communities, giving back, and to our customers. We thank you and are excited to have a greater presence in the great city of Conroe and play a greater role in its future emergence and growth!"
Woodforest occupies 3,993 square feet of the building. The bank's full-service retail branch anchors the first floor, and the second floor houses its Commercial Banking Team.
The new Woodforest complex is conveniently located within walking distance from the Montgomery County Courthouse, Conroe's City Hall, the Conroe Lake Conroe Chamber, and all of the businesses within the downtown Conroe square.
Leasing interest remains strong as the building offers the only Class A office/retail space in downtown Conroe, and the bank is currently working with multiple interested parties. For those who are interested in leasing space, please contact Jeff Beard of SVN | J. Beard Real Estate – Greater Houston for details and to schedule a tour at (281) 367-2220 x102.